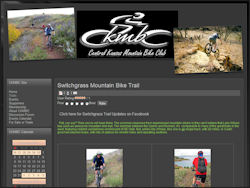 Wilson State Park is located on the southeastern edge of Wilson Lake, in the heart of the Smoky Hills approximately 25 miles east of Russell, and is one of Kansas' premier recreation hotspots, considered by many to be the most beautiful in the state.
The Switchgrass Mountain Bike Trail provides a challenging 17-mile excursion through the Hell Creek area over hills and through valleys rarely seen by the visiting public. This trail is known locally as the "Rollercoaster" for its grinding climbs and swooping descents.
Wilson Lake is home to the annual Kansas Fat Tire Festival, which takes place each May at Hell Creek State Park.
Note: The web site at ckmbc.com appears to be no longer available; this is an archive copy of the site.
Sorry, but this listing is not currently active;
info shown is the last known data...