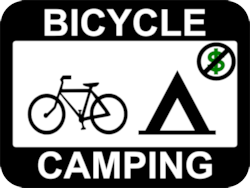 Bates Grove Park is a community park located in Cottonwood Falls, Kansas, just west of Highway 177, adjacent to the Cottonwood Falls waterfall, and a historic bridge over the Cottonwood River that is open to bicycle and pedestrian traffic only. Cottonwood Falls is also situated along the Flint Hills Scenic Byway, which winds through the heart of the Flint Hills, the nation's largest remaining tallgrass prairie.
The city of Cottonwood Falls allows cyclists to tent camp in Bates Grove Park, at no charge. There is a port-a-potty and picnic tables available, but no other amenities (though downtown Cottonwood Falls is only a block away).
Other nearby camping opportunities include Swope Park and the Chase State Fishing Lake.
Contact: City Clerk, city-cwf@sbcglobal.net, 620-273-6666.