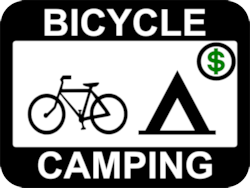 Crawford State Park is located near Farlington, Kansas, and features a 150-acre lake built by the Civilian Conservation Corps in the 1930s. The area is located on the western edge of the Ozarks, and provides "unequaled opportunity for wildlife and scenic adventures. There are two recorded archaeological sites identified within the boundaries of Crawford State Park."
Crawford State Park offers 42 primitive camping sites in the Evening Breeze Point, Lonesome Point, and Osage Bluff areas, with nearby toilet facilities. Camping is allowed only in designated areas. Campsite cost starts at $8/night during the peak season (slightly less off-peak).
In addition to camping, the park has the Crawford State Park Trails, featuring the Drywood Creek Mountain Bike Trail, which is about 7 miles in length, with a mix of fast wooded sections and extremely rocky technical riding.
Contact: 620-362-3671. Brochure