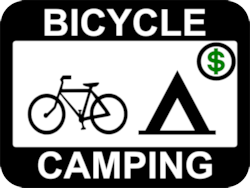 Elk City State Park is located near Independence, Kansas, along the eastern shores of Elk City Reservoir, which features approximately 4,500 acres of surface water, 12,000 acres of wildlife area, and over 50 miles of shoreline. The state park encompasses 857 acres, and provides opportunities for camping, hiking, picnicking, swimming, fishing and sight-seeing.
Elk City State Park offers 54 primitive tent camping sites in the park, as well as 96 sites intended for RVs, with utility hookups. Most primitive sites feature nearby access to restrooms, showers, and potable water. Camping is also permitted along the Table Mound Hiking Trail. Campsite cost starts at $8/night during the peak season (slightly less off-peak).
In addition to camping, the park has the Elk City State Park Trails, which feature the 4-mile Eagle Rock Mountain Bike Trail and the paved 3.3-mile South Squaw Bike Trail, as well as a nationally-recognized system of hiking and nature trails.
Contact: ElkCitySP@ksoutdoors.com, 620-331-6295. Brochure