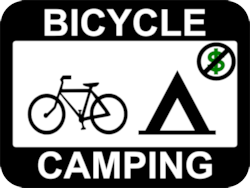 The Franklin County Visitor Information Center provides free RV parking and tent camping in Ottawa, Kansas. The Visitor Information Center is located on the eastern edge of Ottawa, along K-68 Highway. The Visitor Information Center is open Monday-Friday from 9am-5pm, Saturday from 9am-4pm, and Sunday from 12-4pm. The center provides a wealth of information about attractions and points of interest in Ottawa, Franklin County, and throughout Kansas. Donations are appreciated.
The rules for parking and camping at the Visitor Information Center are:
Reservations must be made by calling (785) 242-1411, those who have not made reservations will be asked to leave.
Dry camping only, no restroom facilities (restrooms and other services are available at a nearby convenience store).
Camping is at your own risk.
Absolutely no camp fires are allowed.
Tents may be pitched in the grassy area behind the Visitor Information Center. A picnic table is provided, but there are no other amenities available. Please clean up your own trash.
Ottawa is located at the crossroads of the Flint Hills Nature Trail and the Prairie Spirit Trail.
Contact: Franklin County Visitor Information Center, 2011 East Logan, Ottawa, KS 66067, 785-242-1411.