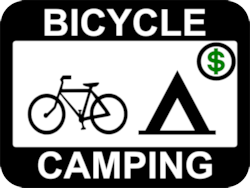 North Lake Park is located in Garnett, Kansas, and is home to Lake Garnett, which was built in the 1930s by the Civilian Conservation Corps.
Wilderness (tent) camping is allowed in the northside dam area. Restrooms are provided and drinking water is available. The park also provides RV campsites with electricity and water. The campground is open year-round, but water is only available from April 1-October 31.
Cost: $9 per night for "wilderness" (tent) camping. Camping is on a first come, first serve basis with a self-pay permit stations located in the park. Camping permits may also be purchased at the Garnett Police Dispatch Center, 131 W 5th Ave.
Garnett is located at the midway point along of the Prairie Spirit Trail State Park, a rails-to-trail that runs north-south for about 51 miles, from Ottawa in the north to Iola in the south.
Contact: info@garnettks.net, 785-448-5496. Guide (pg 6), Map