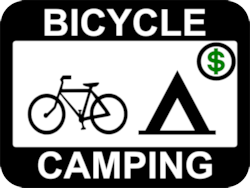 Hillsdale State Park is located near Hillsdale, Kansas. Hillsdale Lake consists of 4580 surface acres of water and over 8000 acres of public land surrounding the lake, managed by the U.S. Army Corps of Engineers. Hillsdale State Park is managed by the Kansas Department of Wildlife, Parks and Tourism, and provides numerous outdoor recreation opportunities.
Hillsdale State Park offers primitive camping in the Crappie Cove, Quail Run, and Rabbit Ridge areas. There are nearby shower and toilet facilities available from April 15 to October 15. Fires are allowed only in designated fire rings. Campsite cost is $8/night in the peak season (April 1 to Sept. 30), and $7/night in the non-peak season.
Hillsdale Lake is also home to the Hillsdale Lake Trails, with a 5-mile gravel trail within the campgrounds area, and 49 miles of equestian/mountain bike trails.
Contact: 913-783-4507. Brochure