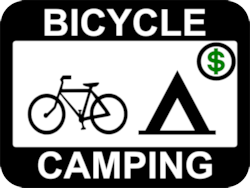 Arrow Rock Park provides campsites along the southern shore of Melvern Lake, near Olivet, Kansas. It is managed by the Corps of Engineers.
Arrow Rock Park has 45 campsites (19 with full utilities, 26 non-utility). Each campsite can accommodate an RV or a vehicle, but may be used by tent campers as well. Each site includes a fire ring and picnic table. The campground includes a shower building, vault toilets, and picnic shelters. There is also a short hiking trail within the campground.
Sites start at $12 per night.
Other campgrounds at Melvern Lake include Coeur d' Alene Park, Outlet Park, Sun Dance Park, Turkey Point Park, and Eisenhower State Park. Sun Dance Park is free, the others are pay camping sites.
Melvern Lake is also home to the Melvern Lake Trails, which features several mountain bike trails, covering a total of over 30 miles of trail wandering through the prairie and into rocky ravines and woodlands.
Contact: Melvern Lake Project Office, Melvern@usace.army.mil, 785-549-3318. Brochure, Map