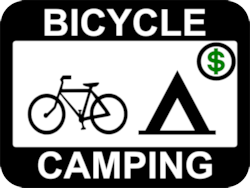 Eisenhower State Park is located near Melvern, Kansas, along the northern shores of Melvern Lake, which is situated on the eastern edge of the Flint Hills region, and features 7,000 surface acres of water surrounded by 18,000 acres of land, featuring a mixture of timber and open prairie.
Eisenhower State Park offers numerous primitive camping sites in the Five-Star, Sailboat Beach, and Omaha Swim Beach, Five-Star, Sailboat Beach, and Omaha Swim Beach areas, with nearby shower and toilet facilities. Fires are allowed only in designated fire rings. Campsite costs start at $8/night.
Other campgrounds at Melvern Lake include Arrow Rock Park, Coeur d' Alene Park, Outlet Park, Sun Dance Park, and Turkey Point Park; Sun Dance Park is free, the others are pay sites.
Melvern Lake is also home to the Melvern Lake Trails, which features several mountain bike trails, covering a total of over 30 miles of trail wandering through the prairie and into rocky ravines and woodlands.
Contact: 785-528-4102. Brochure