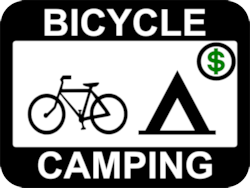 Farnum Creek Park provides campsites on the eastern shores of Milford Lake, near Milford, Kansas. "Farnum Creek has a fish cleaning station, water and electric hookups, tent and dry campsites and is home to the RC Flyers Club, where radio controlled helicopters and airplanes rule the skies. Visitors are welcome while club members are there."
Farnum Creek Park offers both RV and tent campsites. Each full campsite can accommodate an RV or a vehicle, but may be used by tent campers as well. Amenities includes restrooms, showers, and drinking water.
The campground is only open from April 15 through September 30. Sites start at $12 per night.
Other campgrounds at Milford Lake include Curtis Creek Park, West Rolling Hills Park, School Creek Park, Timber Creek Park, and Milford State Park. Some of these sites offer only pay camping, while others offer a mixture of pay and free tent camping opportunities.
Also be sure to check out the nearby Milford Lake Trails, which offer over 35 miles of trails open for hiking, backpacking and biking.
Contact: Milford@usace.army.mil, 785-238-5714. West Roliing Hilis Campground: 785-784-4447. Brochure, Map