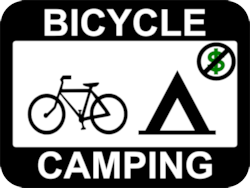 The Old Military Trail Campground is located at the northeastern part of Perry Lake, near Ozawkie, Kansas.
The Old Military Trail Campground is described as a "walk-in hiker's campground" that is free to use for primitive camping, and is located along the Perry Lake Trail (designated for hiking only, no bikes allowed on the trail). The campground is accessed via an old park service road, up a steep hill beyond a gate to keep motor vehicles out.
The campground provides a water hydrant, picnic shelter, fire rings, and pit toilet facilities. Carry out any trash.
Other campgrounds at Perry Lake include Rock Creek Park, Longview Park, Old Town Park, Slough Creek Park, and Perry State Park.
Also be sure to check out the nearby Perry Lake Bike Trail, which offers nearly 24 miles of singletrack designed and built specifically for serious mountain biking.
Contact: perry.lake@usace.army.mil, 785-597-5144. Brochure, Map