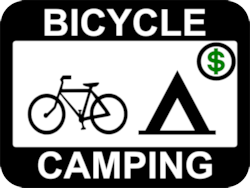 Sylvan Park provides campsites below the dam of Wilson Lake, near Wilson, Kansas. It is managed by the Corps of Engineers.
Sylvan Park has 28 campsites with utilities, but no primitive sites. Each full campsite can accommodate an RV or a vehicle, but may be used by tent campers as well. The campground includes showers, vault toilets, potable water, and picnic shelters.
Sites start at $12 per night (less in the off-peak season).
Other campgrounds at Wilson Lake include Lucas Park, Minooka Park, and Wilson State Park. All are pay sites; there is no free primitive camping at Wilson Lake.
Also be sure to check out the nearby Wilson Lake Trails, highlighted by the Switchgrass Mountain Bike Trail, which provides a challenging 17-mile excursion over hills and through valleys in the heart of the Smoky Hills.
Contact: Wilson Project Office, wilson.lake@usace.army.mil, 785-658-2551. Brochure, Map