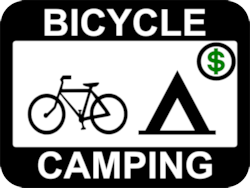 Wilson State Park is located near Wilson, Kansas, along the shores of Wilson Reservoir, which features over 9,000 surface acres of water and over 13,000 acres of land surrounding the lake. Wilson Lake is known as one of the "premier recreation hot spots to fish, hike, water-ski, or just enjoy the outdoors" in the state of Kansas.
Wilson State Park offers camping opportunities in two areas. The Hell Creek area has 39 primitive campsites, and the Otoe area has 43 primitive campsites; both areas have numerous utility (RV) sites as well. Most primitive sites feature nearby access to restrooms, showers, and potable water. Campsite cost starts at $8/night during the peak season (slightly less off-peak).
In addition to camping, the park offers the Wilson Lake Trails, highlighted by the Switchgrass Mountain Bike Trail, which provides a challenging 17-mile excursion over hills and through valleys in the heart of the Smoky Hills.
Other campgrounds at Wilson Lake include Lucas Park, Minooka Park, and Sylvan Park. All are pay sites; there is no free primitive camping at Wilson Lake.
Contact: WilsonSP@ksoutdoors.com, 785-658-2465. Brochure