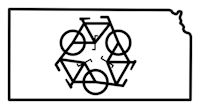 If you have old bicycles that you no longer need or want, consider donating them to a worthy cause. Organizations that recycle bicycles not only keep bikes out of our landfills, but help needy people with transportation and recreation.
If your bicycle is rideable, or only in need of minor repairs, many organizations will accept your donated bike and pass it along to someone who needs and wants it. If you bicycle is unrepairable, its parts are still of value for repair of other bikes, or its materials may be able to be recycled.
Adopt-a-Bike – Mound City

The Adopt-a-Bike program in Mound City is run by the Linn County Conservation District, which helps to keep bikes out of the landfill and finds a good home for refurbished bikes. Drop off bikes at 431 Spruce Street in Mound City, Kansas 66056. Contact at 913-795-2940.
Big Brothers and Big Sisters – Wichita

"Lee's Bike Shop gladly accepts bike donations. We service and deliver youth bikes to the Wichita Big Brothers and Big Sisters so that the kids can enjoy the bike riding experience. Bikes in good riding condition, free from rust and extensive damage, are preferred. We can provide a receipt if needed for tax purposes." 316-978-9623
Campus Christians at Pittsburg State University – Pittsburg

The Campus Christians Club at Pittsburg State University accepts donated bicycles, which they refurbish for International Students. For details, contact Don Smith at dsmith@ccpsu.org or 417-529-6470.
Ellsworth Correctional Facility – Ellsworth

The Bicycle Repair and Refurbishing Program at the Ellsworth Correctional Facility employs inmates who "repair and refurbish bicycles for donation to less fortunate individuals in Kansas communities and throughout the United States. The bicycle parts and materials are obtained through donations by individuals, law enforcement agencies, and civic organizations." Learn more: Recycling Bicycles in Ellsworth
FreeWheels for Kids – Kansas City

FreeWheels for Kids in Kansas City, Kansas accepts bicycle donations and collects used bikes year-round. They accept donations at Rosedale Development Association.
Lansing Correctional Facility – Lansing

The Lansing Correctional Facility's bicycle repair shop "serves the dual function of employing inmates and providing bicycles to those who need them. The program isn't funded by the state and relies on donations that mainly come from American Legion Post 23 in Leavenworth." Learn more: Program gives jobs to Lansing inmates and thousands of bikes to community
Little Wheels for Big Deals – Wichita

"For more than 25 years the Bicycle X-Change shops has provided over 10,000 Christmas bicycles to the deserving children of Wichita through the "Little Wheels for Big Deals" drive, which takes place just before Christmas. During this drive, with the help of local radio stations, customers bring in their used bicycles and donate them to the Bicycle X-Change Shops. The Bicycle X-Change takes the donated bicycles and fully refurbishes them to be given away, for free, the week before Christmas to children who might not otherwise ever have a bicycle." 316-264-6427
Revolve Community Bike Shop – Kansas City

The Revolve Community Bike Shop in Kansas City, Kansas accepts bicycle donations at their location at Located at 554 Central Ave., Kansas City, KS 66101. 816-835-3310. "Revolve always needs bicycles in any condition. Bicycles that can not be refurbished are stripped for usable parts and the metal is recycled."
Southeast Kansas Recycling Center – Pittsburg

The Southeast Kansas Recycling Center accepts bicycles for recycling or resale through their "New To You Resale Shop". Located at 615 S Joplin St, Pittsburg KS. 620-231-8930.
The Bike Cave – Wichita

"The Bike Cave community bike shop accepts donations of any old bicycles, parts, or gear. The Bike Cave is located at 115 1/2 S. Pattie St. Wichita, KS 67208
Topeka Community Cycle Project – Topeka

The Topeka Community Cycle Project "promotes self-reliance, sustainability, and healthful living in Topeka through the recycling, repurposing, and distribution of bicycles." Bicycle donations can be dropped off at 423 S. Kansas Avenue in downtown Topeka. Bicycles that cannot be safely refurbished will be stripped for parts in order to give new life to more suitable bicycles and anything that cannot be reused will be recycled.
Toys For Tots – Wichita

Each year, Toys For Tots and the Bicycle Pedaler collect and repair bikes for kids in the community. "It is suggested that people wishing to donate used bicycles either contact Wichita Toys for Tots or call the Bicycle Pedaler at 316-685-4545 prior to dropping of used bicycles."
Variety – Kansas City

Variety of Greater Kansas City hosts an annual Bike Bonanza in the Kansas City metro area. Donors can drop off bikes at designated locations. "If you would like to donate a gently used bike, simply email varietykc@gmail.com or call 913-558-2309"
Other Places to Donate Bicycles
In addition to the programs listed above, many community organizations, such as the American Legion, Elks Club, Goodwill, Knights of Columbus, Lions Club, Ruritans, Salvation Army, VFW, and many more will either accept bicycles donations, or be able to advise you about where to drop off.
Also, many communities hold yearly recycling events that will accept used bikes.
According to KansasRecycles.org, bicycles are accepted for recycling in the following communities: Caldwell, Concordia, Glasco, Kansas City, Kiowa, La Crosse, Leavenworth, Leawood, Lyons, Pittsburg, Shawnee, Topeka, WaKeeney, and Wichita.
Another good resource is your local bike shop, who should be able to offer some suggestions for donating your bicycle.
Please contact your city, or nearby organizations, to get the details of what is available where you live.
Donate Bicycles in Neighboring States