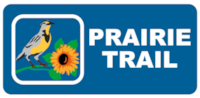 View bison and elk along the 56-mile Prairie Trail Scenic Byway, which passes by the Maxwell Wildlife Refuge. Catch wondrous glimpses of the Smoky Hills and enjoy other scenic, historic natural, cultural, archeological and recreational amenities along the way.
The route begins at Canton and heads north on 27th Avenue to the tiny town of Roxbury, then west on Smoky Vally Road through Lindsborg, the "Swedish Capital of Kansas". From Lindsborg, the route continues west on K-4 to K-141, which runs north past Kanopolis Reservoir, home of Kansas' very first state park, and the Kanopolis Lake Trails, which offers nearly 25 miles of trails open to hikers, mountain bikers, and horseback riders.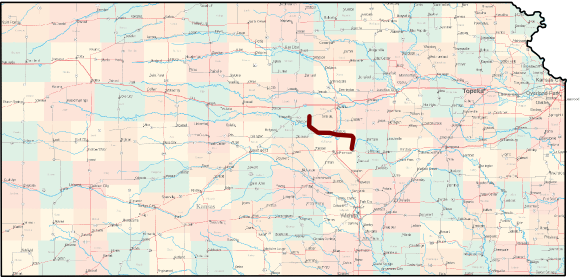 Length of route: About 56 miles
Bicycle friendliness of route: Good. No paved shoulders, but traffic is generally light at well under 1000 vehicles per day, except for a stretch of K-4 that carries roughly twice that volume.
Communities Along the Prairie Trail Scenic Byway
Learn more from Kansas Byways and Byways.org.
See also: Kansas Byways Bicycle Guide