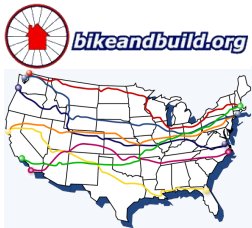 Stephanie Meehan is a senior at the University of Kansas in Lawrence, and Alexandra Kossoy is a senior at Grinnell College. This summer, the Kansas natives each plan to bicycle 3,500 miles across the country to raise awareness for affordable housing.
They are riding on one of seven fund-raising cycling tours organized by Bike and Build, an organization which, over the last five years, has contributed over one million dollars to housing groups across the nation.
As they cross the United States on their bikes, Bike and Build riders stop every few days to help build affordable houses for organizations such as Habitat for Humanity. Cyclists also give presentations in communities along the route, in order to help raise awareness of the need for affordable housing.
Stephanie and Alexandra are riding on the Boston to Santa Barbara route, which starts in Boston, MA on June 11th, and ends in Santa Barbara, CA on August 15th. Along the way, the route passes through Massachusetts, Pennsylvania, Ohio, Indiana, Illinois, Missouri, Oklahoma, Texas, New Mexico, Arizona, Nevada, and California.
Three of the other Bike and Build routes pass through Kansas: the Central U.S. route stops in Lawrence, Manhattan, Clay Center, Beloit, Phillipsburg, Oberlin, and St. Francis, June 13-20; the North Carolina to San Diego route passes through Coldwater, Dodge City, and Garden City, June 27-29; and the Providence to San Francisco route, which stops in Manhattan and Beloit on July 5-6.
Each rider must raise $4,000 in order to participate. If you'd like to make a tax deductible contribution to Bike and Build, you can do so at bikeandbuild.org.
If you live in one of the host communities, or along the routes, be sure to give the riders a taste of the legendary Kansas hospitality, and show your appreciate for their efforts in this worthy cause.
See also: Student plans bike ride across country at The University Daily Kansan, and KU students to cycle coast to coast at The Lawrence Journal-World.