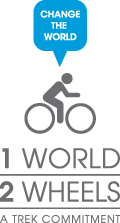 Residents of Omaha, Kansas City and St. Louis are invited to participate in the Go By Bike Challenge sponsored by Midwest Cycling and Trek Bicycle Corporation. A man and a woman from each city will be selected to receive a free Trek FX bike and cycling accessories, which they can keep if they complete the challenge.
For the Challenge, each of six winners will ride bikes on six short trips (under two miles) per week during the month of May, National Bike Month. Winners will post weekly online entries about the Challenge to share their experience with others in the community. Organizers are hoping to promote lifestyles that integrate bicycle use into daily life. Trips under two miles are targeted since they comprise 50% of car trips in the US.
One World, Two Wheels is a part of Trek's global commitment to helping the world become a more bicycle-friendly place. With the world facing skyrocketing obesity rates, escalating traffic congestion and the concerns of global climate change, the bicycle is an ideal solution.
The deadline for entries is midnight March 24, 2008. Visit trekbicyclestores.com for more info or to register.