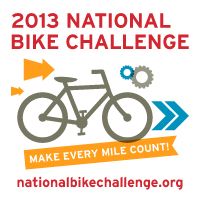 Checking in on the 2013 National Bike Challenge, we find that Kansas has slipped a bit in the national state rankings. After being #9 in both May and June, Kansas dropped to #12 in July. The cumulative May-July ranking also has Kansas at #12.
Through the first three months of the five-month challenge period, 380 Kansas riders have covered about 167,000 miles. Nationwide, just over 33,000 riders have logged about 11.5 million miles.
In the state rankings, Kansas sits squarely in the middle of our region:
#1 = Nebraska: 1904 riders, 733,000 miles (#3 nationally)
#2 = Colorado: 1623 riders, 579,000 miles (#4 nationally)
#3 = Iowa: 934 riders, 345,000 miles (#6 nationally)
#4 = Kansas: 380 riders, 167,000 miles (#12 nationally)
#5 = Missouri: 217 riders, 91,000 miles (#36 nationally)
#6 = Arkansas: 136 riders, 34,000 miles (#38 nationally)
#7 = Oklahoma: 118 riders, 35,000 miles (#42 nationally)
Individually, Eric Nordgren of Topeka remains the top Kansas rider, by a large margin (and he's #2 nationally!).
Team-wise, the top Kansas team is the "Topeka Ol' Phogeys", who are also the top "small team" (1-10 riders) in the nation.
If you haven't signed up yet, you can still do so at NationalBikeChallenge.org. It's free, and it's fun to keep track of your miles. Encourage your family, friends, co-workers, and riding buddies to get involved, too!
You also have the chance to win some great prizes, just by logging your miles. The more you ride, the better your chances. Check out the list of winners so far.
Post tags: National Bike Challenge