Kansas is sitting at #11 in the 2015 National Bike Challenge, through the end of July. 1130 Kansas riders have ridden over 327,000 miles so far!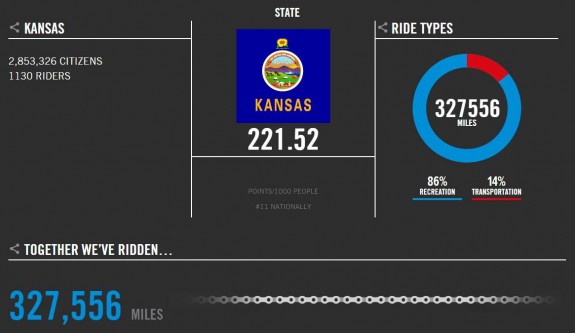 Regionally, Kansas is in the middle, with Nebraska (#2) and Colorado (#5) ahead of us, and Iowa (#12), Arkansas (#32), Oklahoma (#44), and Missouri (#4) behind us.
The top cities in Kansas (ranked by points, which is a combination of miles and days ridden) are Wichita, Topeka, Great Bend, Lawrence, Iola, Overland Park, Derby, Olathe, Lenexa, and Humboldt. Since the rankings favor larger populations, it's nice to see smaller communities (Great Bend, Iola, Derby, Humboldt) holding their own, while some places you might expect to do well (Manhattan, Emporia, Salina, Hays, Leawood, Leavenworth, Newton, Shawnee, etc.), are unable to crack the top ten.
Top Kansas teams include the Kaw Valley Bicycle Club, Kansas Cyclists, and Central Kansas Bicyclists.
In the Local Challenge Rankings, Bike Allen County (#5 nationally), Bicyclists of Central Kansas (#10), Kaw Valley Bicycle Club (#25), Bike Walk Wichita (#40), and the Healthy Harvey Coalition (#42) are doing Kansas proud.
As always, it's interesting to see the map of where people have ridden in Kansas: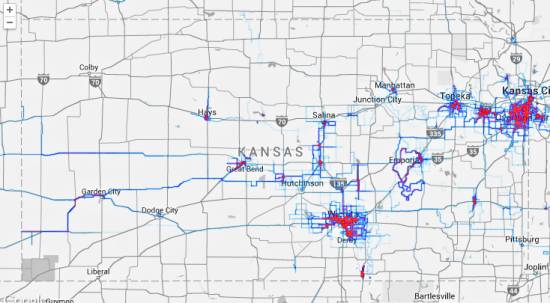 With two months to go, there's still plenty of time to ride your bike, log your miles, and help move Kansas into the top ten!
Log your miles at NationalBikeChallenge.org.
Post tags: National Bike Challenge