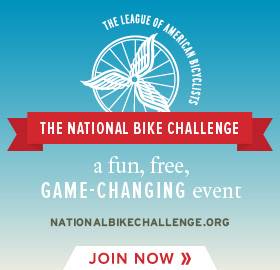 The 2014 National Bike Challenge is now in the books, so how did Kansans fare?
In 2013, Kansas ranked number 11 in the nation, with 396 riders logging 276,335 miles. For 2014, Kansas broke into the top ten, ending the May-September Challenge period in 9th place, with 611 riders logging 382,672 miles, a 54% increase in ridership and a 38% increase in mileage.
Here's how our neighboring states ranked: Arkansas #27, Colorado #5, Iowa #7, Missouri #46, Nebraska #2, and Oklahoma #35. So Kansas, at #9, is right in the middle, statistically as well as geographically.
Here are the state rankings for 2014: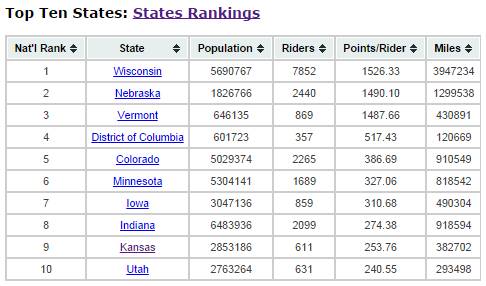 Kansas Community Rankings
The top ten communities in the state (among all sizes) are Dorrance, Clafin, Iola, Hoyt, Humboldt, Redfield, Marion, La Harpe, Garden Plain, and Silver Lake (ranked by points per 1000 residents).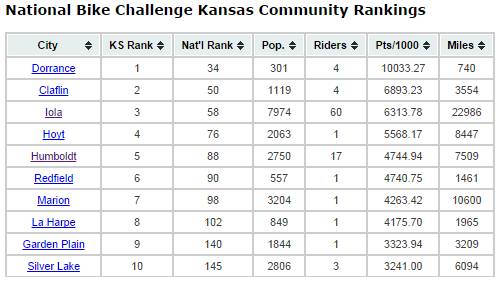 The top cities with population less than 500: Dorrance, Alden, Schoenchen, Piqua
The top cities with population 500 to 4,999: Clafin, Hoyt, Humboldt, Redfield, Marion
The top cities with population 5,000 to 49,999: Iola, Garnett, Andover, Great Bend, Derby
The top cities with population 50,000 to 199,999: Topeka, Lawrence, Overland Park, Olathe, Shawnee
The top cities with population 200,000+: Wichita
Only 86 of the 636 municipalities in Kansas had riders participating in the challenge, about 14%. Would love to see broader participation in coming years!
Kansas County Rankings
The National Bike Challenge doesn't provide statistics for counties, but these can be inferred from city data. Doing so creates the following of the top bicycling counties in Kansas (ranked by points per 1000 residents):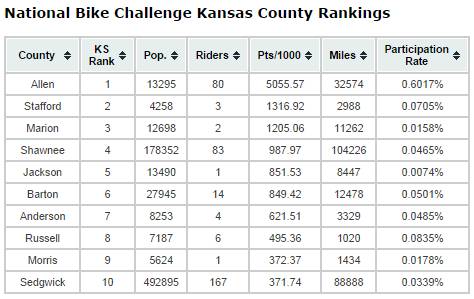 Allen County topped the list, lapping its nearest competitor nearly four times. It also topped the list in participation rate, with about 1 out of every 167 people in the county participating.
Shawnee County (Topeka) logged the most miles, and Sedgwick County (Wichita) had the most riders. Johnson County, the most populous county in the state, ranked #23, though it had the third-most riders (82) and logged the third-most miles (42,481).
Of the 105 Kansas counties, there were National Bike Challenge riders in 41 of those (39%). Again, hope to see a larger proportion of the state participate in the future.
Kansas Rider Rankings
Once again, Topeka cyclist Eric Nordgren was the top rider in both the state and the nation. Over the 153-day challenge period, Eric rode 18,152 miles, an astonishing average of 118 miles per day.
Marion cyclist Roger Frans clocked in at #6 in the nation, and #2 in Kansas, with 10,600 miles.
Here are your top ten Kansas riders for the 2014 National Bike Challenge: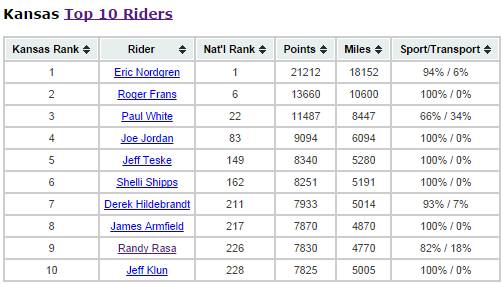 Kansas cyclists who rode every day of the challenge include: Eric Nordgren, Roger Frans, Jeff Teske, Shelli Shipps, Randy Rasa, Hap Rutherford, Kevin S. Rice, and Andrew Cramb. Thanks for your dedication!
The top Kansas female riders were Shelli Shipps, Lori Handley, Erin Chamberlain, Karen Winterhalter, and Amy Walker.
Kansas Local Challenges
There were only three Local Challenges running in Kansas this year. A "local challenge" is when an organization (a bike club, advocacy group, health organization, etc.) agrees to host a challenge in one or more counties.
The three local challenges in Kansas took place in Allen County (hosted by Thrive Allen County), the Topeka metro (hosted by the Kaw Valley Bicycle Club), and in the Wichita metro (hosted by Bike Walk Wichita). Here's how they ranked for 2014:
Thrive Allen County: #3 in the nation, 80 riders (13,295 citizens), 32574 miles, 5055.57 points/1000 residents
Kaw Valley Bicycle Club: #15 in the nation, 84 riders (191,842 citizens), 112673 miles, 978.37 points/1000 residents
Bike Walk Wichita: #28 in the nation, 178 riders (601,992 citizens), 102564 miles, 343.53 points/1000 residents
The results in Allen County were really quite amazing. This was their first year of participation, and they were the smallest local challenge in the nation, yet they had the highest participation rate of anyone. They also got better as the summer went along, ranking #5 in May, #2 in June, July, and August, and were #1 in September. They had three of the top ten cities in Kansas, and three of the top 102 cities in the country. [learn more]
The local challenge concept is a great way to really engage local riders, and it's something we need to improve on going forward. Next year, the hope is to have local challenges running in all the major metropolitan and micropolitan areas of the state.
Kansas Team Rankings
The teams leaderboard is a bit muddled, due to the way teams are assigned to states, with multi-state teams showing up on the Kansas list.
Considering only teams that are populated predominantly by Kansans, here are the top teams:
The Kansas Krank Addicts were the number one small team in the nation (up to 10 riders).
Kansas Workplace Rankings
Like the teams list, the Workplace Leaderboard contains a lot of non-Kansas companies that happen to have one or more Kansas-based employees.
The top predominantly-Kansas workplaces include: Cleversoul Design (Iola), H&B Communications (Dorrance), Wichtia-Sedgwick County Metropolitan Area Planning Department (Wichita), Kansas Secured Title – Sedgwick County (Wichita), and Mother Earth News (Topeka).
Kansas School Rankings
This category is one that has seen very little uptake in Kansas, with only two schools on the Kansas leaderboard, the University of Kansas (22 riders, 10171 miles, #75 nationally) and Wichita State University (10 riders, 4148 miles, #83 nationally).
The schools competition is actually open to all levels of education — elementary schools, middle schools, high schools, and college/universities — so there's ample potential to expand this list greatly in the future.
Wrapping It Up
Nationally, 47,000 riders pedaled more than 23 million miles!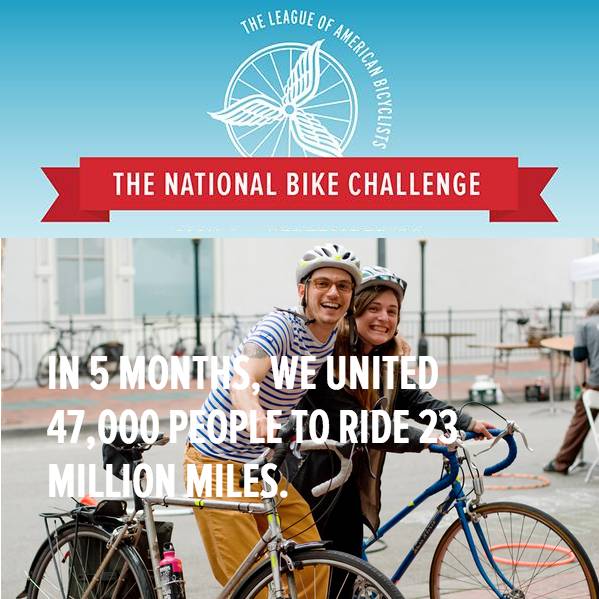 Kansas had a good year. We moved up in the rankings, and we had more people participating.
"More people riding bikes, more often" is one of the main goals of the National Bike Challenge, and this informal, "just for fun" competition has proven to inspire people to get on their bikes and ride daily, whether it's to keep up with their friends, or to represent their team, club, or city.
Next year, I expect Kansas to continue moving up in the rankings, with more people riding more miles more often.
Post tags: National Bike Challenge