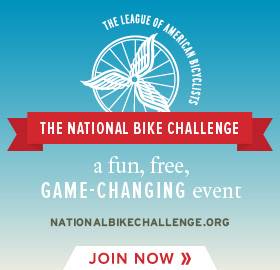 We're three months into the five-month 2014 National Bike Challenge, and here's where Kansas stands:
For the month of July, Kansas ranked #9 in the nation, adding 47 riders, and covering 82,979 miles. For the entire challenge period to date, Kansas ranks #10, with 552 riders covering 238,358 miles.
For July, the top individual male riders in the state were:
Eric Nordgren, Topeka: 4,333 points
Roger Frans, Marion: 2,871 points
Paul White, Hoyt: 2,389 points
For July, the top individual female riders in the state were:
Shelli Shipps, Topeka: 1,649 points
Lori Handley, Garden Plain: 1,421 points
Karen Winterhalter, Lenexa: 1,334 points
The top communities in the state, thru July, are:
The top local challenges in the state, thru July, are:
Thrive Allen County (Allen County): #3 in the nation, 69 riders (13,295 citizens), 18698 miles, 2880.62 points/1000 residents
Kaw Valley Bicycle Club (Shawnee County): #16 in the nation, 79 riders (191,842 citizens), 71843 miles, 626.26 points/1000 residents
Bike Walk Wichita (Sedgewick County): #27 in the nation, 166 riders (601,992 citizens), 64361 miles, 216.65 points/1000 residents
The top teams in the state were:
(There is a glitch in the NBC state team rankings, where national teams are listed in the state rankings, so I've listed only teams that are predominantly from Kansas.)
Here's how our neighbors are doing so far:
As a region, Nebraska, Iowa, Colorado, and Kansas are all in the top 10, but Arkansas, Oklahoma, and Missouri are well off the pace.
Nationally, Topeka's Eric Nordgren remains the #1 individual rider in the nation, and Marion's Roger Frans is at #5, and Topeka's Paul White at #13. The Kansas Krank Addicts are still the #1 team in the nation (up to 10 riders). And Allen County is the #3 "local challenge" in the nation.
If you've not yet signed up for the National Bike Challenge, it's not too late. The Challenge runs through the end of September, so there's still plenty of time to participate. Just go to NationalBikeChallenge.org, create an account, and start logging your miles. Learn more here.
Post tags: National Bike Challenge