The 2016 National Bike Challenge began on May 1st and runs through September 30th. With May, June, and July now in the books, let's check in:
So far, 1535 Kansas Cyclists have ridden over 323,000 miles, putting us on target for over half a million miles by the end of September. Kansas ranks #17 in the nation in total points.
Here's a map of where National Bike Challenge Strava riders have ridden so far: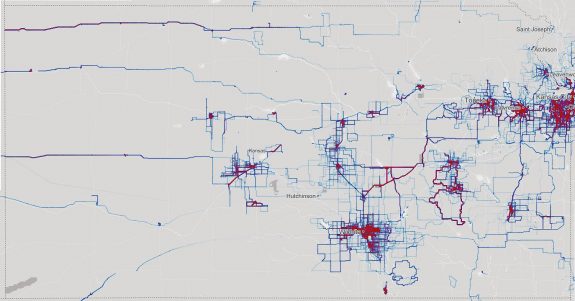 It's easy to see the big hot spots: Wichita, the Kansas City metro, Lawrence, Topeka. Other isolated areas of activity include Leavenworth, Emporia, Iola, McPherson, Salina, Hutchinson, and Great Bend.
The top individual riders in Kansas are Eric Nordgren of Topeka (8184 points) and Roger Frans of Marion (7878 points) for the men, and Janelle Shirley of Abilene (5710 points) for the women.
The top Kansas Advocacy Challenges are Bike Allen County at #7 in the nation, Bicyclists of Central Kansas at #12, Kaw Valley Bicycle Club at #19, Livewell Lawrence at #20, Bike Walk Wichita at #37, and Healthy Harvey Coalition at #53.
Regionally, Kansas ranks behind Colorado (#2), Nebraska (#4), and Iowa (#15), but ahead of Missouri (#34), Arkansas (#35), and Oklahoma (#38).
Post tags: National Bike Challenge