The 2016 National Bike Challenge has wrapped up, and Kansas finished at #9 in the state rankings, with 1575 riders logging 506,713 miles from May 1 through September 30.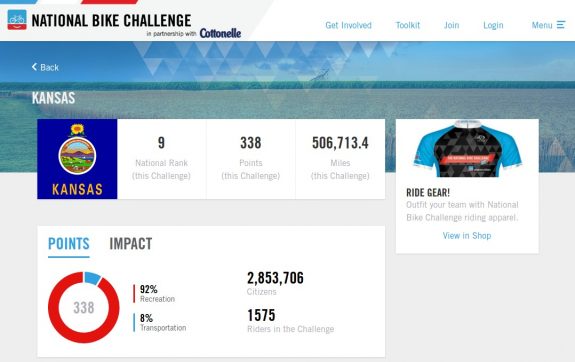 Among neighboring states, Kansas was middle-of-the-pack, ranking behind Nebraska (#2) and Colorado (#5), but ahead of Iowa (#11), Arkansas (#30), Oklahoma (#41), and Missouri (#49).
The top biking cities in Kansas were: Wichita, Topeka, Lawrence, Great Bend, Iola, Abilene, Derby, Olathe, Overland Park, and Leavenworth.
The top Local Challenges in Kansas were: Bike Allen County (#6 nationally), Bicyclists of Central Kansas (#12), Livewell Lawrence (#15), Kaw Valley Bicycle Club (#20), Bike Walk Wichita (#40), and Healthy Harvey Coalition (#51).
The top individual riders in the state were: Eric Nordgren (Topeka), Roger Frans (Marion), Mark Schroeder (Andover), Bill Roy (Lawrence), and Michael Thorp (Topeka). The top female riders in the state were Janelle Shirley (Abilene), Shelli Shipps (Tecumseh), Brenda Mueller (Wichita), Mary Ann Ireland (Wichita), and Alice Blecha (Topeka).
Here's a map of where Strava riders traveled in Kansas during the National Bike Challenge: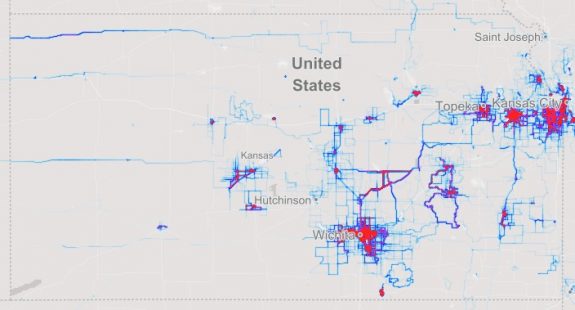 It's always interesting to see where the hot spots are, and which rides and routes show up on the map.
See also: 2016 Prairie Spirit Trail Challenge Results
Thank you to all who participated and racked up those impressive miles. Congrats on a great summer!
Post tags: National Bike Challenge