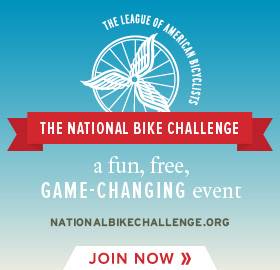 The 2014 edition of the National Bike Challenge runs from May 1st through September 30th. Like prior editions of the program, its aim is to get more people riding bikes, more often.
The National Bike Challenge does this by promoting a friendly competition, based on the number of "points" you accumulate. The formula for calculating points in the Challenge is really simple: it's 20 points for each day you ride at least 1 mile, plus 1 point for each mile.
People can compete in a number of different ways:
Individually, on national, state, community, school, workplace, and team leaderboards
As teams, with categories based on team size (up to 10, 10-24, 25-49, 50-99, and 100+)
As workplaces, based on number of employees (<10, 10-99, 100-499, 500-4999, and 5000+)
As schools, based on elementary, middle, high, and college
As communities, based on size (<500, 500-4999, 5000-49999, 50000-199999, 200000+)
As leagues, among teams
As states, based on region (Notheast, South, Midwest, West)
In addition, there are "local challenges" of one or more counties. (Advocacy, health, and community groups can host a local challenge; contact the folks at the League of American Bicyclists for more info.)
Some of the rankings are based on total miles, while other, such as the state and community rankings, are calculated on a per-capita basis, so that smaller states and smaller communities have just as much of an opportunity to win the Bike Challenge as larger locales.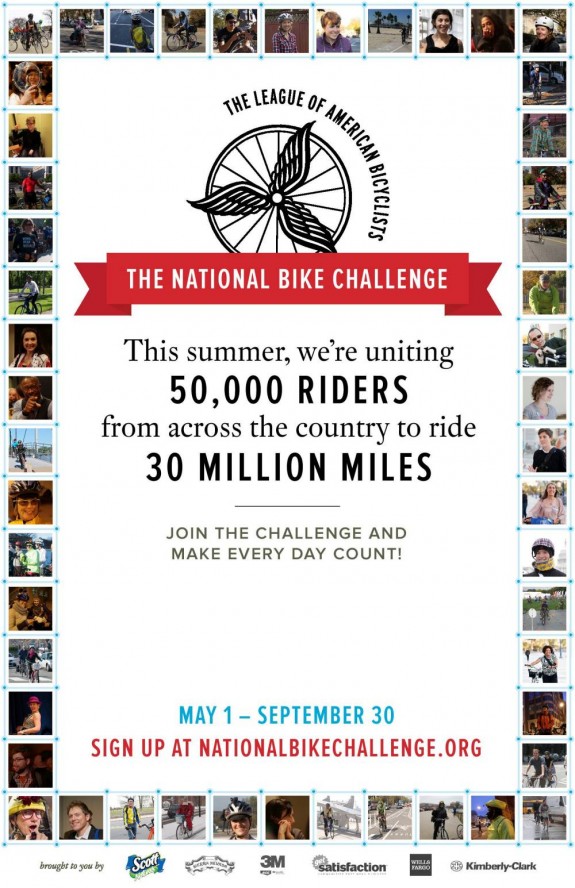 Why Compete in the National Bike Challenge?
It's fun!
It's free!
You have a chance to win some great prizes, which are awarded randomly each month to participating riders. THe more you ride, the better your chances to win.
For state, civic, or personal pride.
For friendly competition. Out-doing your friends, co-workers, or neighboring communities feels so good!
By logging your miles, and sharing your results on social media, you'll be an inspiration for your friends. You never know who might start riding because they saw how much fun you're having.
The discipline of riding regularly and logging your miles helps instill a positive habit in your life.
You'll be surprised at how many miles and memories you rack up!
In addition to these personal reasons, there are also some larger considerations. By recording your miles, you're helping to provide data that advocates can use to help make the case for improving bicycling conditions in your community. Historically, statistics for ridership have been notoriously difficult to gather, and this lack of data has made it difficult to convince policy-makers to invest in better bicycling infrastructure. Having solid numbers helps immensely to bolster the case.
How To Compete in the National Bike Challenge
This year, the National Bike Challenge offers a number of ways to log your miles. You can enter your data manually, by using a GPS device (such as a Garmin cyclocomputer) and a supported web app (Endomondo or MapMyRide), or by using a supported app with a smartphone (via Endomondo, MapMyRide, or Moves.
To get started, go to NationalBikeChallenge.org and create an account (using an email/password, or via Facebook or Twitter), then enter the pertinent info (age, gender, zip code).
If you're using a GPS cyclometer, setup an account at Endomondo or MapMyRide, and connect it to the National Bike Challenge using the provided instructions.
If you're using a smartphone, you can then download one of the available apps (if in doubt, try Endomondo), install it, and connect it to the National Bike Challenge using the provided instructions.
Sign up for the National Bike Challenge
Logging Miles for the National Bike Challenge
I know some people get hung up at this step, and admittedly, it feels a little awkward the first few times you do it, but it soon becomes an easy habit, just part of your post-ride routine.
If you're logging miles manually, then you can either estimate your miles (if you don't have a cyclocomputer), or copy the miles from your cyclocomputer screen. Just go to NationalBikeChallenge.org (I suggest bookmarking the site) and enter the data. Once you get the hang of it, this takes just very little time.
If you're using a smartphone, prior to beginning your ride, launch the app, begin logging your miles, then just ride normally. At the end of your ride, pull up the app on your smartphone, and hit "stop", and then "save". The ride will be automatically uploaded to your Endomondo or MapMyRide account (whichever you're using), and then automatically synced with NationalBikeChallenge.org.
If you're using a GPS cyclocomputer, as I do (a Garmin Edge 200), here's a quick step-by-step: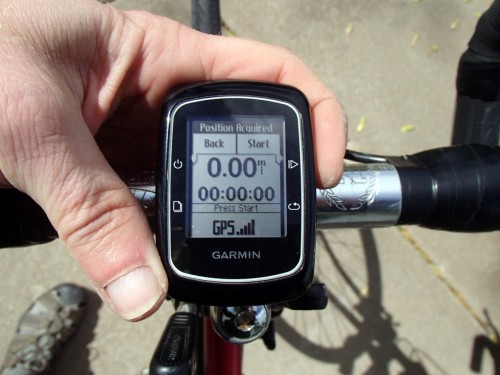 Attach the cyclocomputer to the bike, start recording, do the ride, stop recording, and save.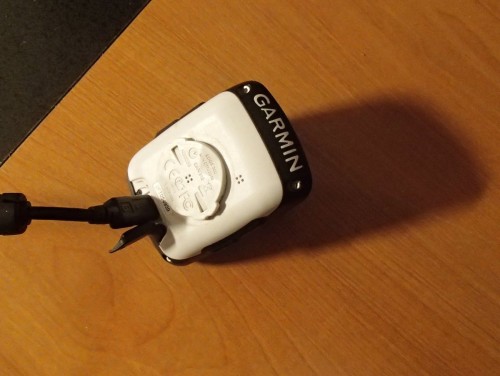 Remove the cyclocomputer from the bike, bring it indoors, and connect it via a USB cable to my computer (this also recharges the cyclocomputer's internal battery).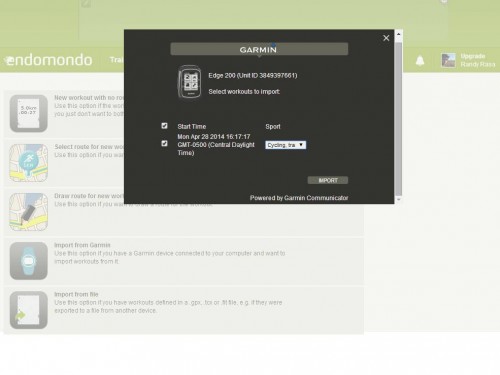 On the computer, go to Endomondo, click "New Workout", select "Import from Garmin", within the pop-up window, select either "Cycling, sport" or "Cycling, transport" depending on the type of ride, then click "IMPORT". The ride data will be transferred from the cyclocomputer to the PC, and saved into the Endomondo web site, where I can review it, look at the ride map, check speeds, etc.
At this point, the ride has been recorded, saved, and uploaded to Endomondo. The National Bike Challenge web site will periodically sync with the Endomondo site, and automatically grab the new miles, so there's really nothing else I have to do at this point.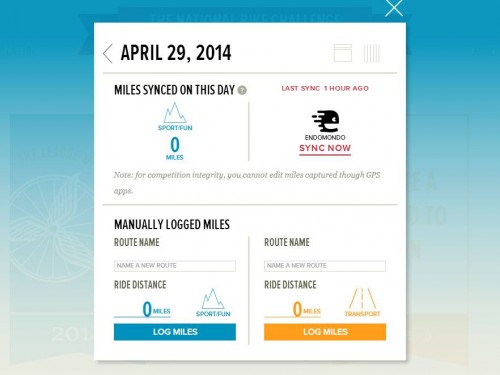 Nevertheless, I usually go NationalBikeChallenge.org and perform a manual sync, by clicking on "LOG MILES", and then "SYNC NOW". This will pull in the new data, and I can then go and check the leaderboards or see what others are doing on the NationalBikeChallenge.org web site.
So, logging the miles takes just a few minutes each ride. Or, if you prefer, you can do this once a week instead of after every ride — the Garmin will retain the ride data, and Endomondo and NationalBikeChallenge.org can upload it all at once.
2013 National Bike Challenge Results
In 2013, Kansas ranked number 11 in the nation, with 396 riders logging 276,335 miles.
The top three Kansas male riders for 2013 were Eric Nordgren of Topeka (16,073 miles), Paul White of Topeka (8,526 miles), and David VanSickle of Derby (6,756 miles). The top three Kansas female riders for 2013 were Shelli Shipps of Tecumseh (5,396 miles), Erin Chamberlain of Topeka (4,753 miles), and Karen Winterhalter of Lenexa (3,968 miles).
The top three Kansas teams for 2013 were Topeka Ol' Phogeys (52,703 miles), Kansas Krank Addicts (38,059 miles), and Kansas Cyclists (26,614 miles).
I expect another strong showing from Kansas cyclists this year. I want to see a top-ten finish on the states leaderboard!
Sign up for the National Bike Challenge today!
Post tags: National Bike Challenge