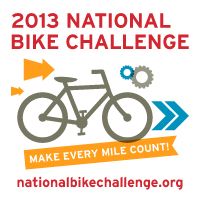 The National Bike Challenge is back for 2013, and it's bigger and better than ever.
Last year, about 25,000 cyclists logged more than 10 million miles in the challenge, and this year the goal is 50,000 riders and 20 million miles!
Kansas had an outstanding showing in last year's challenge, featuring both a top team — Topeka's Kaw Valley Bicycle Club: Meet the #1 Team in the National Bike Challenge — and top individual rider — Michael Lemuel: Meet the #1 Rider in the National Bike Challenge, and we're hoping for great things again in 2013.
It's really easy to get involved. There's a writeup from KanBikeWalk, the statewide coordinator for the National Bike Challenge, that explains the process:
Ride solo, create a team, or pedal as part of a workplace to get healthier, have fun and become part of a national online community. Plus, every month you'll be eligible to win great raffle prizes!

It's easy, and it's free. The National Bike Challenge is hosted by Endomondo, a web service that makes it really easy to participate.

There are several ways to log your trips:

— If you have a GPS device (such as the popular Edge series of cyclocomputers from our friends at Garmin), simply plug in your device after each ride, and upload your ride data to Endomondo with just a few clicks.

— If you carry a smartphone, download the free Endomondo app for your device. The app will let you record your ride and easily upload it to the web. Available for Android, iOS, and other popular platforms.

— You can also log your rides manually. Just go to nationalbikechallenge.org and click the "Log Miles" button.

The National Bike Challenge runs from May through September, but you can go ahead and get set up and start logging your miles. When you sign up, you have the option of joining a team or workplace or school.

Every time you get on your bike the miles count. Whether they are for fitness, fun, or transportation make sure to join and log them on nationalbikechallenge.org. Miles pedaled on a stationary bike or trainer do not count.

Everyone who participates is automatically entered into the prize program. Points are accumulated each day you ride at least 1 mile, and the more you ride, the more prizes you're legible to win each month. There will be over 300 prizes distributed throughout the challenge period. [read more]
To join the challenge, head on over to nationalbikechallenge.org and create an account, if you don't have one from last year.
Feel free to join an existing team (such as the Kansas Cyclist team), or start a new one. Then just ride your bike and log your miles all summer long.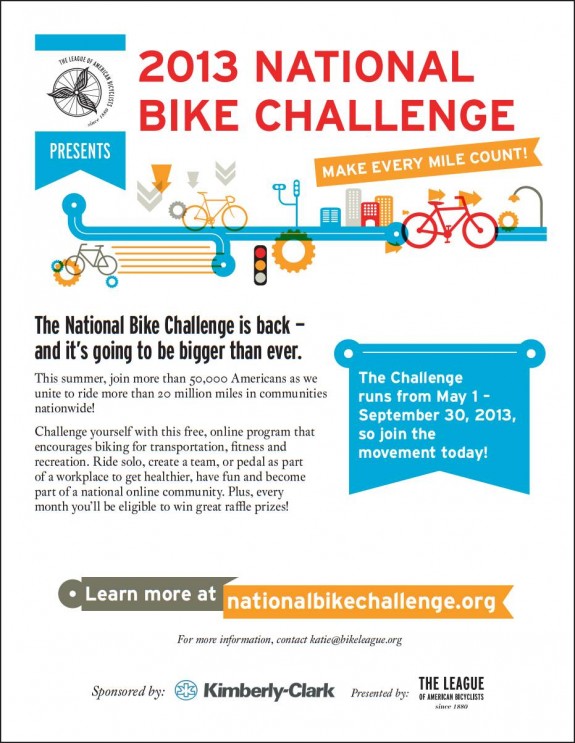 Kansas won't have it easy this year. The competition will be fierce, even regionally.
Lincoln, Nebraska has already thrown down the gauntlet: Challenge Issued to Lincoln Cyclists to Finish 1st in 2013 National Bike Challenge — "Lincoln's goal is to finish first as a community, help Nebraska finish first as a state, and to have two or more workplaces and teams finish in the top 10 of their categories."
Kansan, we can't let ourselves be whupped by Nebraskans, can we?
Get out and ride, and encourage your family, friends, schoolmates, co-workers, and teammates to do the same. Let's roll!
Post tags: National Bike Challenge, NewsBlog