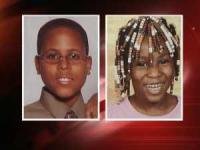 The family of Cheramara Motley is mourning the loss of the 5-year old girl, and praying for her brother, 14-year old Greg Womack, who is in critical but stable condition at Children's Hospital in St. Louis.
The two children were critically injured in St. Louis on Monday, April 28th, when they were hit by an SUV while riding their bicycle, the impact of which threw them into the path of a Metro bus coming from the opposite direction.
Greg had picked up his sister from a Head Start program, and they were headed home, with Greg pedaling the bike as Cheramara stood on the "pegs" of the back wheel.
The driver of the SUV has admitted to inattention, according to police. "He was traveling southbound on Sarah, when he looked up the kids were in front of him on the bicycle," said Lt. Col. Reggie Harris of the St. Louis Police Department. The only skid marks on the street appeared to be from the bus.
Police investigators are looking into the incident, and no charges have been filed. Harris said the accident reconstruction team would be reviewing video from the bus' on-board camera. Some reports indicate that the police are leaning toward declaring it "just a tragic accident."
Members of the community gathered at the scene of the tragedy for a vigil on Wednesday evening, and the family thanked people for their support and asked for prayers. Cheramara and Greg's mother, Carrie Motley, led the crowd in a song to remember her five year old daughter, and candles were lit in Cheramara's honor.
"Just keep my baby in your heart and your mind and in your prayers, and keep them going up for my son," said Motley. "For those parents out there that have babies, cherish them," she said. "Because you never know."
Read more: Crash kills girl on bike, injures brother, Girl Killed, Boy In Critical Condition After Being Struck By SUV, Prayer Vigil For 5 Year Old Killed In Tragic Crash, Mother of Children Hit by Car and Bus Speaks Out, Crowd prays for children struck by car.
Image courtesy KSDK.