St. Louis Mayoral candidate Lewis Reed is an avid bicycle commuter, and his latest television campaign ad shows him riding his bike to work, carrying his bicycle into city hall, and traveling around his city by bike.
"On Tuesday, March 5th, vote for a NEW VISION for our city, one that includes ALL citizens and ALL neighborhoods. We CAN build ONE ST. LOUIS."
Lewis Reed is currently president of the city's Board of Aldermen, and is challenging incumbent Mayor Francis Slay in the Democratic primary. According to 15thward.org, Reed "founded the organization Bike St. Louis creating well over 100 miles of interconnected bike routes throughout the region which helped to revitalize and expand the cities cycling and bike commuter community."
The St. Louis Post-Dispatch says that "Reed's persona should appeal to some urban professionals in the city's central corridor. He often bikes to City Hall. He worked in computer technology. And his demeanor is warm, casual and, sometimes, even carefree — characteristics rarely used to describe Slay."
But Mayor Slay may also have appeal for the bicyclist voting block. He "has wooed voters in the central corridor, too, pushing programs to build walkable streets, open bike-to-work lockers, save historic buildings and plan an environmentally friendly city."
Here are some stills from the ad: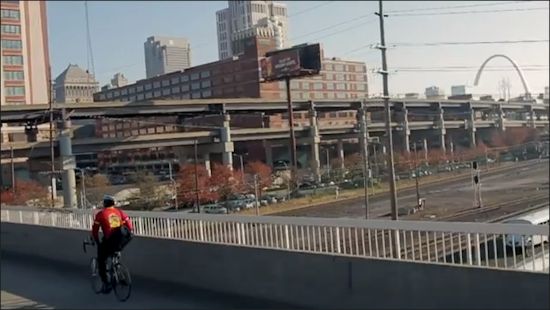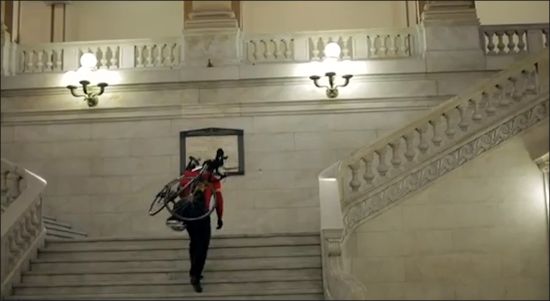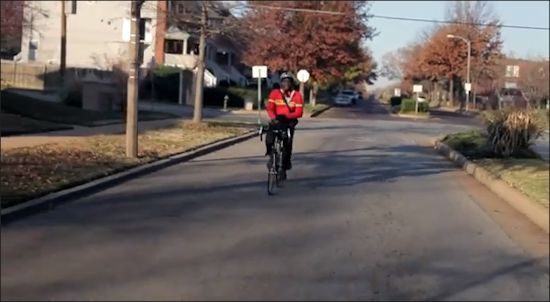 That's one pretty awesome vision, Mr. Reed!
You can learn more about the candidate at LewisReed.com.
Post tags: NewsBlog