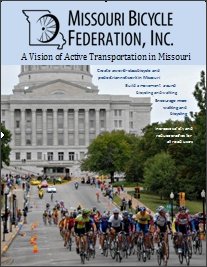 The Missouri Bicycle Federation has released a document called A Vision for Active Transportation in Missouri (PDF). A post on their site describes the document and provides a summary:
The vision encapsulates much of what MoBikeFed members have been telling us and what the MoBikeFed board has been working for over the years into a single document. The vision lists concrete, measurable things we want to accomplish in Missouri in the next 5-10 years.
On February 26th, this detailed and ambitious vision will be part of the material presented at Bicycle Day at the Capitol, where bicycling advocates visit with state representatives and senators in Jefferson City to ask them to help make a more bicycleable and walkable Missouri.
Coincidentally, KCBike.info has published a copy of the Kansas City Bikeways (PDF) plan from 1980, a very interesting historical document detailing KC's plans for a network of bikeways that would cover the entire city. It's amazing (and discouraging) how little things have changed in 30 years…