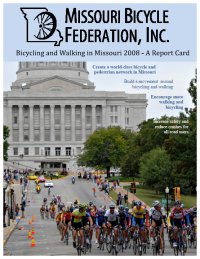 The Missouri Bicycle Federation has released its first annual Missouri Walking and Bicycling Report Card, which gives grades to Missouri's efforts to improve the environment for walking and bicycling in the state.
The current situation is pretty grim:
"The overall grade for Missouri's walking and bicycling environment for 2007 was a D," says Missouri Bicycle Federation Executive Director Brent Hugh. "We are quite frankly behind most other states in accommodating for safe walking and bicycling. With gas prices near $3.50 a gallon and rising, it's hitting us right in the pocketbook."
But they see reason for hope:
People are working hard all across Missouri to turn this situation around, with some real, tangible, positive results this year. And the very fact that Missouri has ignored bicycling and walking for so long presents an opportunity: Even simple, basic changes will create very noticeable improvement and a rapid increase in the amount and safety of walking and bicycling in Missouri.
The report is a comprehensive and amazingly detailed look at the state of walking and bicycling in Missouri, giving grades in over 40 specific subject areas tracked by MoBikeFed.
Read the full report (PDF).
Additional coverage: MyFox Kansas City, Joplin Independent, St. Louis Post-Dispatch, Roger Kramer.