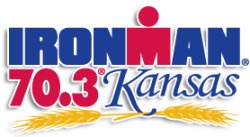 The inaugural running of the Ironman 70.3 Kansas took place on June 14th at Clinton Lake near Lawrence, Kansas. The event featured 1100 athletes taking on a 1.2-mile swim, a 56-mile bike ride, and a 13.1-mile run.
The racers started on Bloomington Beach and swam a rectangular lap before returning to the beach, running through a transition area, and hitting the roads on the southwestern side of the lake known to locals as "The Iron Cross," a challenging course that offered long, winding, flat stretches matched with steep challenging hills. After completing the ride, the athletes returned to Bloomington Beach and ran a three-lap course on asphalt roads and trails throughout the park.
The overall winner was 23-year-old Torenzo Bezzone of New Zealand, who finished at 3:56.06, three minutes ahead of 2006 Ironman world champion Craig Alexander.
The women's winner was Samantha McGlone of Colorado Springs, at 4:19.03.
An early-afternoon lightning storm forced race officials to cut short the event during the run, leaving hundreds of athletes short of the finish line, and canceling the awards ceremony. Approximately 40% of the field was not allowed to finish the race, leaving some bitterly-disappointed athletes.
Read more from the Lawrence Journal-World: Ironman Kansas set for takeoff, Ironman day has arrived, Ironman Kansas challenges top athletes, Athletes take the plunge, Iron to the core, Ironman deemed shining success
Additional coverage: Ironman.com, Triathlete Magazine, Chris Locke, CheeseburgerTriathlete, ironclm, Samantha, Who'd a thunk, Ironman Cowland, Joe Fox, EverymanTri, Mickey Woolard