In honor of their 35th year, Biking Across Kansas, the annual bicycle tour across the state of Kansas, is offering a Biking Across Kansas '09 jersey: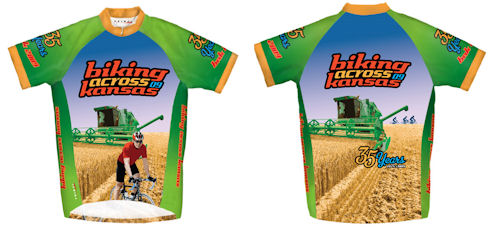 This Primal Wear raglan jersey is available in men's and women's (sleeved and sleeveless) cuts and features a BAK 35th year "Wheat Harvest" design. Cost is $60 each. Sizes from XXS to XXXL.
Jerseys will not be mailed — they will be distributed during BAK. No refunds on jersey orders. Orders must be placed by 5 pm March 30, 2009. Order now.
Post tags: Biking Across Kansas