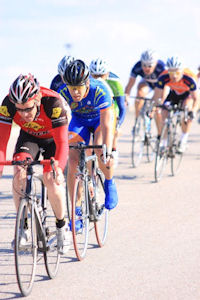 Despite some still-challenging weather in many parts of the region, the race season is now in full swing. Here are some reports from around the area:
Bazaar Road Race – Took place April 18th in Bazaar, Kansas:
Bone Bender – An endurance mountain bike race that took place near Smithville, Missouri on April 18th. Rain the morning of the race turned the 10-mile course into a mud pit:
Herbert Circuit – Bella Vista, Arkansas, April 18th:
Le Tour de Husker – Took place April 18/19th in Lincoln, Nebraska:
Tour De Tick – Took place April 19th at Bicentennial Park in Neosho, MO:
Tour of Hermann – Took place April 18th and 19th at Hermann, Missouri:
Congrats to all the participants! This is hardly a comprehensive list, and there are many more racing opportunities coming up. Refer to our Regional Ride Calendar, as well as race schedules from the Kansas Cycling Association, the Iowa Bicycle Racing Association, the Missouri Bicycle Racing Association, the Nebraska Cycling Association, and the Bicycle Racing Association of Oklahoma. Of course, the ultimate racing resource is USA Cycling.
Find more info and links on our Racing page…
Photo courtesy of Lois Brunnert.