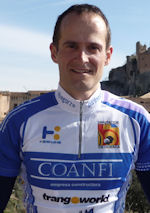 Yesterday morning, just before 7am, a cyclist was struck by a car near the Sedgwick/Butler County line just east of Wichita. The cyclist was riding on the shoulder of the road when a car drifted out of the traffic lane and struck him from behind.
The cyclist was later identified as 36-year-old Diego Ballesteros Cucurull of Spain, who was participating in the Race Across America (RAAM) as part of the 4-person COANFI Desafio ASPANOA relay team.
Diego was life-flighted to Wesley Medical Center in "extremely critical condition". Deigo was later upgraded to "serious condition" and remains at Wesley. RAAM reports that Diego underwent surgery at Wesley, and "his prospects for a full recovery are good".
The COANFI team has withdrawn from the race.
The Race Across America started in California six days ago and will end in Annapolis, Maryland. The route through Kansas included time stations in Ulysses, Montezuma, Greensburg, Pratt, Maize, El Dorado, Yates Center, and Fort Scott. The race has been run since 1982, and riders compete in several classifications, including solo men and solo women, as well as 2-person, 4-person, and 8-person relay teams. Racers ride around the clock, sleeping when they can. Even for the riders on relay teams, RAAM is an incredible athletic challenge.
Here is a well-done video from KAKE TV in Wichita:
According to the reporter, RAAM rules require a chase car to follow behind cyclists at night, to shield them from traffic, but a chase car is optional during daylight hours. In this case, Diego's car had driven a few miles ahead in anticipation of switching riders on the relay team.
As you can see from the video, the road here, Highway K-254, is a four-lane divided highway with wide shoulders.
Although rumble strips can be troublesome on roads with narrow shoulders, this is one situation where they might have made a difference.
The KHP crash report lists the driver as Keith J. Swoverland, age 22, of Wichita. There is no word yet on charges. According to RAAM: "Our understanding is that in cases like this the driver is not cited. The Kansas Highway Patrol turns the information over to the DA. The DA then decides what action should be taken. We're confident action will be taken. Owing to the seriousness of the case, it's not a simple speeding ticket."
According to preliminary comments from the Kansas Highway Patrol, "By all indications, texting was not a contributing factor. The driver looked away from the road and veered onto the shoulder, striking the cyclist." The speed limit on that stretch of K-254 is 70 mph, though patrol officials said they do not know for sure how fast the car was traveling when it struck Ballesteros.
Additional coverage:
Post tags: Diego Ballesteros, RAAM, Wichita