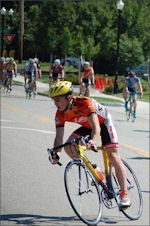 Received the following message from a reader about a recent car/bike collision near Wichita:
Hey, all you drivers, please remember that there are others on the road who are on two wheels, whether it is a motorcycle or a bicycle… Please look out for us. A buddy of mine was struck by a car Saturday. It happened out in the country so no reason for not having seen the guy … he just turned left and T-Boned my friend Dave Wills.
Here's what Dave had to say for himself:
For those who have not heard I was hit by a car yesterday. I was heading east on 21st, and the car was turning left onto Colwich Rd. He t-boned me, sent me sailing, and my flip should get me a 9.5 at the Olympics (deductions for not getting the landing right). I have a dislocated shoulder, compression fracture of the 3rd lumbar, cracked rib(s), and good ole' road rash. The bike is toast obviously.
On Twitter, Dave (@dew68) said: "The Oklahoma race was a no go. Instead I decided to see what it is like to be hit by a car. I do not recommend it. It hurts way too much."
As far as I know, the collision did not make the papers, and I have no information on any citations or charges against the driver…
Dave Wills races for the Specs Racing Cycling Team. You can learn more about Dave on his Hookit page. The photo of Dave is from the Overland Park Grand Prix Criterium, part of the annual Tour of Kansas City.
Best wishes for a speedy recovery, Dave!
Post tags: Wichita