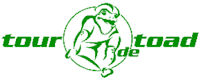 May 2nd is the second annual Tour de Toad in Conway, Arkansas. The city is lobbying to become the first bicycle-friendly community in the state, and organizers are hoping the Tour de Toad can help raise awareness for the cause:
As Conway is on its way to becoming a more bike-friendly area with a city-appointed task force leading the way, Pruitt said he expects a good turnout.

"We get a lot of race day registrants with tours and if it's a nice day, we could have 250," Pruitt said. "It's kind of a toss up on the number of people, but I'll be praying for nice weather."

This year's Tour de Toad will feature lengths of 33, 46 and 68 miles with a new Family Fun Ride offered for cyclists of all ages and skill levels.

Pruitt, who is vice president of the literacy council board, said so many options are being offered this year because the group just wants residents to get outside.

"Getting people out there on their bikes and giving them some education is important," Pruitt said. "We are wanting to get people out there to experience it. People are so scared to ride on the roads by themselves, but this way it's going to be a lot safer with a large group of people and police present."

Although promoting a bicycle-friendly community is one of the missions of the Tour de Toad, it is not the main purpose.

"I would encourage residents to participate because for one thing, it supports the literacy council and all money goes to supporting its programs for adult literacy in Faulkner County," Pruitt said. [read more]
The ride is part of Conway's annual Toad Suck Daze, a 3-day festival of food, family and fun held on downtown streets. The ride starts at 10am at the Conway High School field house.