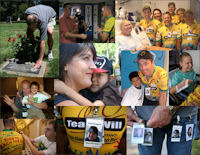 Team Will (http://www.team-will.org/) is a community of cyclists of all skill levels and ages committed to raising public awareness and funds for childhood cancer research through a mixture of cycling activities and events. The most astounding thing that Team Will does is a coast-to-coast bicycle ride across America. They did this in 2006, 2008 and are doing it again in 2010.
They've been making their way across Kansas over the last week, and are due to arrive in Kansas City tomorrow.
The cycling community in KC is now also doing something to celebrate Team Will:
There are a group of cyclists joining Team Will on the 40-mile stretch from Lawrence to Olathe. Not a cyclist? Join us to 'welcome them in' at Heritage Park on Saturday afternoon between 2 and 2:30- PM! Meet at the 160th and Pflumm entrance.

We have the route set for the ride on Saturday June 19th leaving from Lawrence and ending at Heritage Soccer Park. We are anticipating to leave either at 11 or 11:30. The time is dependent on the Team Will schedule and arrival in Lawrence. This is an unsupported ride (no SAG cars), so come self sufficient.

Want a longer ride? Ride from Heritage Park to Lawrence and back. Have questions on logistics? Need a ride to pick up car after ride? Contact Phillip Charlton at (913) 530-8302 for more information.
Here's the proposed route from Lawrence to Olathe via MayMyRide:
Following the ride is an event for the whole family:
Team Will 'Kickin' Kids Cancer In KC' Rally!

Saturday, June 19, 2010, 7:00pm – 10:00pm
Blue Valley Northwest High School Performing Arts Center, 13260 Switzer, Overland Park, KS

Come out and join us for a night you won't soon forget!

Team Will's plight caught the eye of a filmmaker a couple of years ago. He was SO touched by what this amazing group of guys is doing for children with cancer – the documentary "Go The Distance" was born! (http://www.gothedistancemovie.com/index.html) This touching movie chronicles the journey of Team Will's 16 cyclists ride across America in 2008. (Read the director's statement here and why he decided to do this movie: http://www.gothedistancemovie.com/dirstatement.html)

We're very excited that Team Will is going to be at Blue Valley Northwest High School to have a showing of their documentary…AND a rally against childhood cancer!

After a showing of this VERY special movie, Team Will will speak about what inspired them to begin their group, what they do to raise awareness about childhood cancer and what they've accomplished to do just that!

United States Congressman, Jerry Moran, will also be speaking. He was the first Kansas Congressman to join the Childhood Cancer Caucus. You will also hear from Kara Cunningham, who will read a poem about her son, Lane's, battle with cancer. The poem really puts a voice to what these families have endured with their children's diagnoses.

You will also meet several childhood cancer patients, families and survivors here in the KC area. Each family will introduce themselves and tell you a little bit about their fight for life. These children are heroes who have endured unthinkable medical interventions at a very early age. They are courageous and inspiring and your hearts will be touched by them!

THIS EVENT IS OPEN FOR THE FIRST 800 PEOPLE TO ARRIVE AS THERE IS ONLY ROOM FOR THIS NUMBER IN THE AUDITORIUM – THANK YOU!

Come out and have a fun evening with your family AND see why we're fighting so hard for these kids to bring awareness to childhood cancer!
Here's the movie trailer:
Also, check out Team Will Cycling Charity on Facebook.