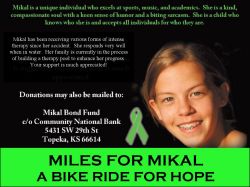 Miles for Mikal is a new ride to benefit a young girl that suffered a massive brain injury when she and a motor vehicle collided on an organized recreational group ride nearly two years ago.
After the 2011 wreck, Mikal was taken by Life Star helicopter to Children's Mercy Hospital in Kansas City, Missouri, where she was in critical condition for some time.
A number of fundraisers have been held to help Mikal in her recovery, including one in Lawrence in July 2011, in Topeka in January 2012, and Hays in May 2012.
Here's some information about Mikal:
Mikal Bond is a beautiful thirteen year old girl who was critically injured on July 10, 2011 when her bicycle collided with a moving vehicle. Mikal and her family were participating in the "Lizard Under The Skillet" bicycle ride near Lawrence. Mikal suffered a severe head injury and continues medical treatment both at home and at Children's Mercy. She is beginning the long rehabilitation stage of her recovery.

Mikal is a unique individual who excels at sports, music, and academics. She is a kind, compassionate soul with a keen sense of humor and a biting sarcasm. She is a child who knows who she is and accepts all individuals for who they are.

Mikal has been receiving various forms of intense therapy since her accident. She responds very well when in water. Her family is currently in the process of building a therapy pool to enhance her progress. Your support is much appreciated!
The "Miles for Mikal" benefit ride takes place on Saturday, June 1st at Central Plains High School in Claflin, which is located in central Kansas, just northeast of Great Bend. Registration and check-in begins at 7am, and the ride rolls at 8am, with 14, 30, and 50-mile route options.
There is a $25 entry fee for the ride.
Donations may also be mailed to:
Mikal Bond Fund
c/o Community National Bank
5431 SW 29th St
Topeka, KS 66614
For more information about the event, contact Rhiannon Becker at rhiannonbecker@hotmail.com or 785-737-3726.
Friends of the family have also set up a crowdfunding page called Mikal's Miracle:
The July 10, 2011 accident left Mikal, a Maple Hill, Kansas teenager, gravely injured and clinging to life. Among her injuries Mikal suffered broken collar bones, three broken ribs and a lacerated spleen- but the worst by far was a traumatic brain injury. She spent the first two months after the accident in a coma while enduring multiple major surgeries. Over a year later and with her family's love and care, Mikal is learning to walk again and do many of the simple tasks of everyday life.

The journey to Mikal's full recovery has been long and expensive… and it's nowhere near over yet. Any donation amount will greatly help Mikal's family as they continue her recovery.
Post tags: NewsBlog