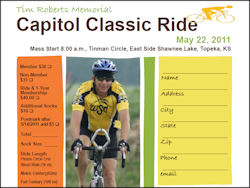 The 2011 Capitol Classic takes place on May 22nd in Topeka, Kansas, and the Kaw Valley Bicycle Club has designated this year's edition of the ride as a memorial to Tim Roberts, a Topeka cyclist who was killed by a driver who struck his bicycle from behind on September 12th, 2010.
The Shawnee County District Attorney's office is apparently still investigating whether they'll file any criminal charges against the driver. They did not respond to a request for a status update on the case.
See also: Topeka Cyclist Struck From Behind and Killed, "Isn't it bad enough he has to live with the guilt of what happened?"
The Capitol Classic begins and ends at Lake Shawnee's Tinman Circle, and offers 16-mile, 62-mile, and 100-mile routes.
Learn more at kvbc.org, or download the event flyer.
The cost is $30 for club members, $35 for non-members, or $40 registers you for the ride and gets you a one-year club membership. Five dollars from every registration will go to the Tim Roberts Memorial fund.
Post tags: Tim Roberts, Topeka