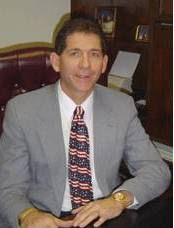 Marc Schultz, a Topeka lawyer, who struck and killed Tim Roberts with his car in Topeka last September, has pleaded no contest to involuntary manslaughter, driving under the influence, and of leaving the scene of an accident involving a death. All are felonies.
Here's the story from the Topeka Capital-Journal:
Within six hours of being charged, Topeka lawyer Marc A. Schultz pleaded no contest Monday to three felonies tied to the death of a bicyclist who was struck as he was riding on S.W. 53rd Street in September.

"I plead no contest" to involuntary manslaughter, Schultz, 40, told Shawnee County District Judge David Debenham.

Schultz then pleaded no contest to charges of driving under the influence of alcohol in a fourth or subsequent case and leaving the scene of an accident in which a death occurs.

The plea calls for a 43-month sentence for the manslaughter, and the sentences for the other charges would run concurrently to the manslaughter sentence. Debenham isn't required to follow the plea.
Shawnee County District Attorney Chad Taylor filed the charges after lengthy negotiations with Schultz and his attorney. "Marc's desire to accept responsibility and to spare the family the additional grief of a contested trial," resulted in the charges and subsequent conviction.
In court proceedings, Schultz said "Mr. Roberts is dead because of me and I'm willing to take full responsibility for that."
Schultz had three prior DUI arrests, one in 1989 and two in 2000. Schultz also pleaded no contest to driving an unsafe speed for road conditions in 2003, and to speeding in 2007. After killing Tim Roberts last September, blood tests showed Schultz had marijuana, tramadol, and citalopram in his system, and his blood-alcohol level was 0.12 percent.
Schultz is currently free on $100,000 bail. He will be sentenced by Judge Debenham on June 2nd.
An interesting note is that the sentencing guidelines for the convictions call for 31 to 34 months. In order to justify the longer sentence, prosecutors must demonstrate an aggravating factor. "The aggravating circumstance is that the victim was particularly vulnerable" as he rode the bicycle, assistant district attorney Jessica Domme said.
Kansas does not have a "vulnerable user" law (yet), such as those in Oregon, Delaware and New York, but it's good that prosecutors see the wisdom and justice in such a law, and will seek stronger sentencing in cases such as this.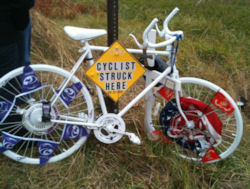 In November, a Ghost Bike was placed at the site of the collision as a memorial, and this year's Capitol Classic on May 22nd is being ridden in honor of Tim Roberts.
Learn more:
Media coverage:
Post tags: Tim Roberts, Topeka