In response to a newspaper article explaining that the death of Tim Roberts is still under investigation, and that Tim's family is considering a suit against the driver, a commenter writes:
I have to say, I believe a civil suit is wrong in this case… [snip] I do believe it was an honest accident. For the family loss I am sorry, but think about it if the shoe was on the other foot… If you had an honest accident where you hit and killed someone, would you want to be sued? Isn't it bad enough he has to live with the guilt of what happened?
Isn't it bad enough he has to live with the guilt of what happened?
No, it's not.
"Feeling bad" about killing someone with your car isn't "enough". Not remotely.
No doubt that the collision was unintentional, but the driver bears responsibility, both criminal and civil, for taking Tim's life. "Accident" doesn't mean "no consequences".
As for the issue of whether sun glare played a problem (raised by a number of commenters), check out this photo (courtesy of the Topeka Capital-Journal), taken shortly after the collision occurred: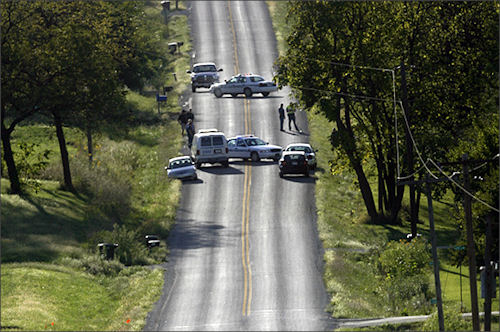 The photo is taken from the same vantage point the driver would have had, looking west, toward the small hill. Shadows are clearly visible, but would have been much less so at the time of the wreck. The sun would have been higher in the sky, posing less of a problem.
But even if glare was an issue, the photo clearly shows that the driver had ample opportunity to notice the bicyclist. The road is straight, there are no obstructions. Trees do not overhang the road, so Tim would not have been hidden in shadows in the right-hand lane. Reports mention no other traffic being a factor.
The driver had a substantial distance to recognize the bicyclist and pass safely — several hundred feet at a minimum, probably much more, judging by the photo.
If sun glare really was a problem, the driver would have had to have driven that same distance, blindly.
Is that the proper response to sun glare? Can a driver just assume that no one is on the road ahead of him?
Isn't continuing to drive, when you can't see the road, completely irresponsible and reckless behavior?
Seems that behavior, resulting in the death of another person, should have significant consequences, more than just "feeling guilty"…
Post tags: Tim Roberts, Topeka