Several bike shops in Kansas have recently relocated to new digs:
The Lawrence Re-Cyclery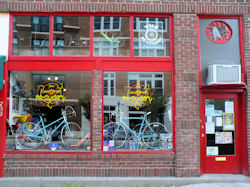 For the second time in two years, the Lawrence Re-Cyclery has moved to a new and larger retail space, this time in downtown Lawrence at 731 New Hampshire

:
Our new location has more variety than ever….over 250 bikes on display for sale. As always we have new and used bikes, new and used accessories, and best of all, we still offer same day repairs. Stop by and check it out or give us a call for more info. 785-856-1236
A Bicycle Service
A Bicycle Service has moved from South Wichita to the town of Derby. They're now located at 442 N Baltimore Ave in Derby. Their phone number is 316-201-6117. They still have no web site, as far as I know.

L&M Cycling and Fitness
Formerly known as "L&M Schwinn", Wichita's L&M Cycling and Fitness is moving from 132 S. Rock, where it's been since 1969, to a new location at 3590 N. Woodlawn.

The Rock Road location will close at the end of this month, and the new space will be open by Aug. 4, near one of Wichita's bike paths. L&M sells Giant and Electra bikes and Schwinn fitness equipment. They also repair all types of bikes and fitness equipment.
Good luck to all at your new locations!
Post tags: Bike Shops