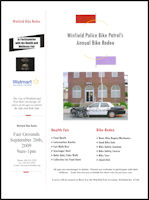 The city of Winfield, Kansas is hosting their annual Bike Rodeo on September 26th from 9:00 a.m. to 1 p.m. at the Winfield Fairgrounds.
The Bike Rodeo includes tutorials on bicycle safety and basic bike repair. There will also be a used bike sale and a safety course and bike tour that participants can ride. The event is free for kids of all ages from 8 to 80, and parents are welcome to participate with their children. Some bicycles are available for those who do not have one.
Winfield is also putting on a Health and Wellness Fair, with information booths, food booths, a fun walk/run, a scavenger hunt, a bake sale, and they'll be taking collections for the local food bank.
The Bike Rodeo is sponsored by the Winfield Police Department's Bicycle Patrol and Wal-Mart.
For more information contact Officer Shawn Love at 620-221-5555 or slove@winfieldks.org
See also: Event Flyer.