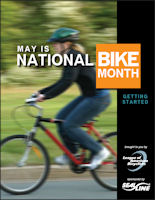 Since 1956, May has been recognized as National Bike Month. The third week in May is designated Bike to Work Week; and the third Friday of May is Bike to Work Day.
This annual celebration of bicycling is a great opportunity to not only ride to work yourself, but to introduce the joy of bikes to those who haven't yet considered this form of transportation for themselves.
Andy Clarke, President of the League of American Bicyclists, said, "Biking to work is an efficient and fun way to get the exercise you need, without having to find extra time to work out."
Communities around the nation offer special events during this month to promote bicycling. The following is a rundown of some of the festivities from around our region:
Kansas City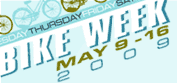 Kansas City's festivities are known as Bike Week and include dozens of events for every level of cyclist:
Classes on fixing your bike and riding it safely
Rest stops on your way to work
Press conference with KCMO Mayor Funkhouser
Car Free Weekends on Cliff Drive
KC Women on Wheels Bike Festival and Expo
Group rides for all skill levels
You can also sign up for the Car-Free Challenge and see how many car trips can you replace with bicycling, walking, or riding the bus Form a team with your friends or co-workers, or go solo.
Learn more at kcbike.info or on their Facebook page or Twitter. See also: Get ready for Bike Week from The Pitch.
Note: These events encompass the entire KC metro area, including both the Kansas and Missouri sides of the city.
Overland Park, Kansas
Overland Park events include three breakfast breaks — which include fruit, bagels and coffee to refresh morning commuters — bike safety checks and opportunities for residents to connect with a "bike buddy" and join the Car-Free Challenge. Read more
Reno County, Kansas

Reno County, Kansas (Hutchinson) is celebrating Reno County Bike to Work Day on May 15th. Events include a Bike to Work Breakfast at Promise Regional Medical Center from 6:30 – 8 a.m., and at DCI Park from 7:00 – 9:00 a.m. A "Smart Cycling" class is offered May 12th at 6:30 at the Public Library. Learn more at renocountygrowth.com and register for the activities.
Reno County Bike to Work Day also has a Facebook page.
Wichita, Kansas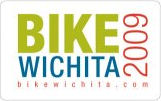 The 2005 census labeled Wichita as one of the 10 worst cities for commuting by bicycle. Encouragement and participation in Bike to Work day on May 15th could help to lift that stigma. It will also help to educate both commuters on bike and in cars, on the benefits and safety required to change the Wichita community.
Bike Wichita is your complete source of information for Bike to Work day in the Wichita community, with info on local rides and events, bicycle safety, and promotional materials.
Bike Wichita also has a Facebook page.
Elsewhere around the region:
Due to their slightly delayed seasons, Colorado's Bike Month is June.
Note: Another annual event during bike month is the Ride of Silence to honor those cyclists killed or injured while riding their bicycle. We'll cover those in a separate post at a later time…