The Health & Wellness Coalition of Wichita has put together a 2013 Wichita Bike Month poster that summarizes National Bike Month events in Wichita: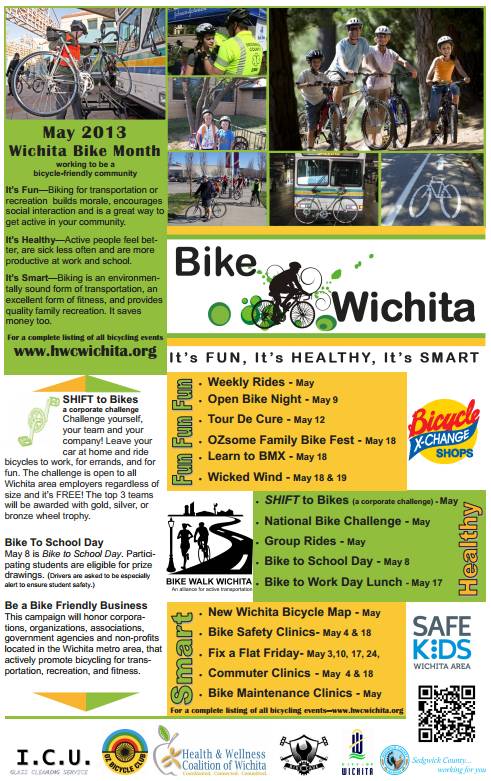 The coalition also has a more detailed Bike Month Calendar. Some highlights:
— SHIFT to Bikes Corporate Challenge: "One of our goals is to promote bicycle commuting as a viable mode of transportation in Wichita. We want to encourage individuals to leave their cars at home and ride their bikes to work, for errands, and for fun. It is open to all Wichita area employers regardless of size. The Wichita SHIFT to Bikes Corporate Challenge is FREE! So rally your team of 5 people then register to participate.The top 3 teams will be awarded with gold, silver, or bronze Wheel Trophy." [poster]
— Wichita Million Mile Month: "Log your bicycle miles during the month of May.
Get on your bike for work, errands, and recreation. Go to mycyclinglog.com to log your miles for the Wichita Million Mile Month Group."
— Tour de Cure: Wichita is May 11th, a one-day fundraising cycling event to benefit the American Diabetes Association, starting and ending at Sedgwick County Park in Wichita.
— Bike to the Ball Park: "The Wichita Wingnuts invited bicyclist to the ball park on May 15, 11:05 a.m. Present your helmet and get your tickets for just $3.00 each."
— Bike To Work Week: May 13-17, with a free Jimmy John's lunch on the 17th in Old Town Square.
— 'Oz'some Family Bike Fest: A free family-friendly festival features both bike riding and activities for all ages, at OJ Watson Park in Wichita, with 1, 2, 5, and 25-mile route options. May 18th.
— Air Capital Mountain Bike Trail Ribbon Cutting: The Kansas Single Track Society will host a ribbon cutting and the official opening of the Air Capital Mountain Bike Trail. Volunteers will be recognized and tours will be given. May 18th.
— Wicked Wind: "The Wicked Wind 100 Bike Tour celebrates our 40th ride this year and we're making it a weekend! Join us on Saturday May 18th for a family ride, velo swap and a moonlight ride, all free and then Sunday May 19th for 25-, 50-, Metric and 100-mile tours."
Refer to the full calendar of events to learn more!
Post tags: Wichita