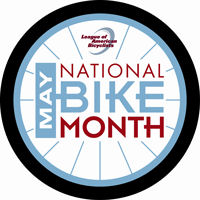 It's Bike Month, the annual celebration of all things bike!
It's a great time to get out on the road if you haven't already, or to renew your enthusiasm for two-wheeled travel. Ride to work, ride to school, ride to the doctor, the dentist, the grocery store. Or just take a spin on your local path or trail. But ride!
Many communities around the nation offer special events during this month to promote bicycling. The following is a quick round-up of some of the festivities from around our state:
Kansas City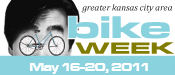 There are a huge number of events going on in the greater Kansas City area (which includes both the Kansas and Missouri sides of the city, as well as the surrounding suburbs). The new BikeWalkKC organization is heading up the festivities this year. Here's a quick list of some of the events:
Lawrence, Kansas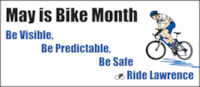 Lawrence Mayor Aron Cromwell proclaimed the month of May, 2011 to be Bicycle Month and the week of May 16-20 as Bike-To-Work Week. The City of Lawrence would like to encourage all residents to experience the benefits of bicycling to work during this time and reminds bicyclists and motorists to safely share the road.
Check out the Lawrence Bike Month poster.
Leawood, Kansas
Leawood is celebrating Bike Month with a CycleSmarts 101 bike safety course taught by Revolve on the 14th and 15th, and a bicycle rodeo on the 20th.
Manhattan, Kansas
Manhattan has a full week of activities planned for May 1st -7th, including a criterium race hosted by KSU Cycling Club, Free bike maintenance from Big Poppi Bicycle and The Pathfinder, a ride and movie sponsored by the Flint Hills Area Bike Club, a Bike Ed 101 class, and Ride with the Mayor on Saturday. Manhattan is also running a Bike Week Commuter's Challenge.
Reno County, Kansas

Reno County, Kansas (Hutchinson) is celebrating Reno County Bike to Work Day on May 20th. Anyone interested in biking to work are invited first to pedal to Hutchinson Clinic or DCI Park for breakfast before finishing their commute to work. Breakfast at both locations will be served from 7 a.m. to 9 a.m.
The breakfast is sponsored by Harley's Bicycles in Hutchinson.
Shawnee, Kansas
The Shawnee City Council proclaimed May as Bicycle Month.
Wichita, Kansas
In Wichita, Bike Month is being organized by Health & Wellness Coalition of Wichita and the Bicycle X-Change Shops, and includes Bike to School Day on the 13th, Bike to Work Day on the 20th, and a challenge called the "Wichita Million Mile Month", which challenges citizens to log one million bike miles by the end of May. Events in Wichita during the month include the Wicked Wind 100 on the 15th, Tour de Cure: Wichita on the 21st, and I Bike Douglas, also on the 21st.
---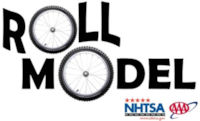 If you've already made the bike part of your day-to-day life, Commute by Bike has some tips on how to encourage others to give it a try as well — basically, don't preach, don't scold, and show that you're just a normal person who just so happens to get around by bike. Works for me!
Sounding a similar theme is the new Roll Model campaign, which urges parents to ensure their kids are bicycling safely, and to drive respectfully and share the road with cyclists. Kids are watching us, and learning. Let's show them how to do it right.