Courtesy of BikeManhattan.info, here is a round-up of activities and events during National Bike Month in Manhattan, Kansas: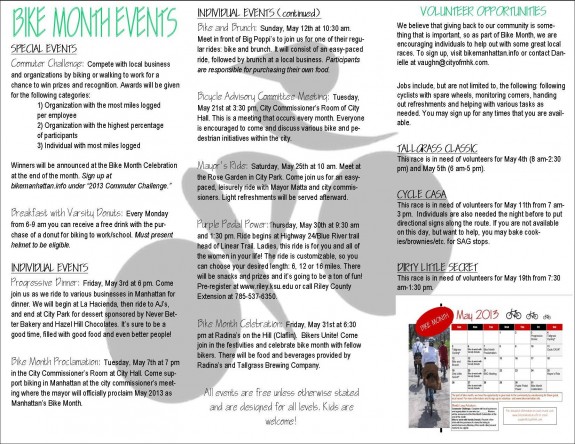 Highlights include:
— Bike to Work with Varsity Donuts: "Every Monday during the month of May, from 6-9 am, you can receive a free drink with the purchase of a donut for biking to work and/or school. Since we encourage safe riding practices, you must present your helmet to be eligible."
— Bicycle Progressive Dinner: "This year's progressive dinner will be on Thursday, May 16th at 6 pm. We will meet at La Hacienda to enjoy some delicious chips, salsa and guacamole. Next, we will bike to AJ's Pizzeria (downtown) for some pizza. Afterward we will head to the final location, City Park (Poyntz Shelter), for some sweet treats from Never Better Bakery and Hazel Hill Chocolate. It's sure to be a great time!"
— Bike and Brunch: "On Sunday, May 12 at 10:30 am, meet in front of Big Poppi's to take part in one of their regular rides: bike and brunch. It will consist of an easy-paced ride, followed by a brunch at a local business."
— Mayor's Ride: "The Mayor's Ride will take place on Saturday, May 25 at 10 am. Participants will meet at the Rose Garden in City Park. Individuals will then accompany Mayor Matta and City Commissioners for an easy-paced, leisurely ride around Manhattan."
For a complete listing of events, plus more details, visit bikemanhattan.info
In addition to the events above, Cycle CASA takes place on May 11th to raise funds for Sunflower CASA, a nonprofit organization in Manhattan. And on May 19th the Dirty Little Secret mountain bike event takes place at Fancy Creek State Park just north of Manhattan.
Post tags: Manhattan