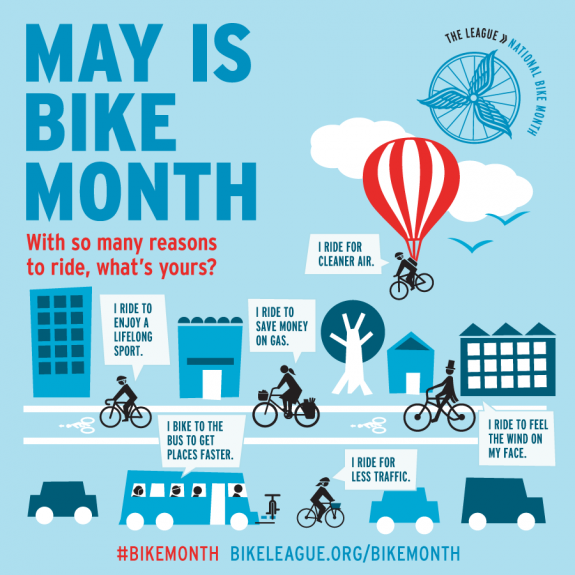 Each year, May is designated as National Bike Month, and there's a lot going on in state of Kansas:
National Bike Challenge
The National Bike Challenge runs from May 1 through September 30, and the goals is simple: ride your bike as much as you can!
The event challenges you to ride
Participating in the Challenge is free, and it's easy. Just ride your bike and log your miles at NationalBikeChallenge.org. If you already log your miles using smartphone apps or online sites such as Strava, Endomondo, or MapMyRide, you can make participating the National Bike Challenge automatic — just follow the prompts on NationalBikeChallenge.org to connect to your site of choice.
National Bike To School Day
National Bike To School Day is May 4th.
Bike to School Day raises awareness of the need to create safer routes for bicycling and walking and emphasize the importance of issues such as increasing physical activity among children, pedestrian safety, reducing traffic congestion and concern for the environment.
National Bike To Work Day & Week
Bike to Work Week is May 16-20, and Bike to Work Day is May 20.
With increased interest in healthy, sustainable and economic transportation options, it's not surprising that, from 2000 to 2013, the number of bicycle commuters in the U.S. grew by more than 62 percent. Join in!
Bike Events
There are bicycling events every month, but May is really the first "full" month in the schedule. Here are a few of interest: