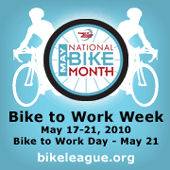 Since 1956, May has been recognized as National Bike Month. The third week in May is designated Bike to Work Week; and the third Friday of May is Bike to Work Day.
This annual celebration of bicycling is a great opportunity to not only ride to work yourself, but to introduce the joy of bikes to those who haven't yet considered this form of transportation for themselves.
Andy Clarke, President of the League of American Bicyclists, said, "Biking to work is an efficient and fun way to get the exercise you need, without having to find extra time to work out."
Communities around the nation offer special events during this month to promote bicycling. The following is a rundown of some of the festivities from around our region:
Kansas City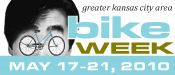 Kansas City's festivities are known as Bike Week and take place May 17-21. Explore all things bicycle in Kansas City — commuting, racing, mountain biking, alley cat, recreation, etc. Take part in the Car-Free Challenge and see how many car trips you can replace with bicycling, walking, and transit. Form a team with your friends or co-workers, or go solo.
Learn more at bikekc.org or on their Facebook group, LinkedIn group or Twitter feed.
Note: These events encompass the entire KC metro area, including both the Kansas and Missouri sides of the city.
Lawrence, Kansas
Lawrence proclaimed the month of May as Bike Month and the week of May 17-21 as Bike-To-Work Week.
Manhattan, Kansas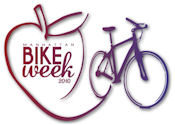 Manhattan has proclaimed May 2-7 as "Manhattan Bike Week." There's a Bike Week Kick-Off Event on May 2nd at City Park, with recreational rides with Mayor Bruce Snead, and all week long the Commuter Challenge will let businesses find out who can log the highest percentage of employees biking to work between May 3rd and May 7th. The winning organization will win a free party sponsored by Tallgrass Brewery. Manhattan's official Bike-to-Work Day is May 7th. Bike to work, and then bike over to City Park for a free lunch donated by local business and restaurants.
Reno County, Kansas

Reno County, Kansas (Hutchinson) is celebrating Reno County Bike to Work Day on May 14th. Anyone interested in biking to work are invited first to pedal to Hutchinson Clinic or DCI Park for breakfast before finishing their commute to work. Breakfast at both locations will be served from 7 a.m. to 9 a.m.
Reno County Bike to Work Day also has a Facebook group.
Wichita, Kansas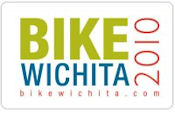 The 2005 census labeled Wichita as one of the 10 worst cities for commuting by bicycle. Encouragement and participation in Bike to Work day on May 21st could help to lift that stigma. It will also help to educate both commuters on bike and in cars, on the benefits and safety required to change the Wichita community.
Bike Wichita is your complete source of information for Bike Month in the Wichita community, with info on local rides and events, bicycle safety, and promotional materials.
Bike Wichita also has a Facebook group and Twitter feed.
Elsewhere around the region:
Due to their slightly delayed seasons, Colorado's Bike Month is June.
Note: Another annual event during bike month is the Ride of Silence to honor those cyclists killed or injured while riding their bicycle. We'll cover those in a separate post at a later time…