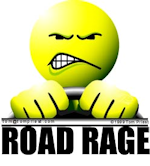 A cycling friend passed along links to two of Bob Mionske's articles discussing the phenomenon of road rage against bicyclists, and suggested that I post them on Kansas Cyclist.
He's right — it's a topic worth discussing.
Here are the articles he suggested:
What is Road Rage? – Bob Mionske explains road rage from a legal perspective – what it is, legally as well as psychologically, and how it affects cyclists.
How Should You Respond to Road Rage? – So what should you do when confronted with a raging driver? The first rule is: don't engage with rage.
Follow the links; they're worth reading.
One paragraph, from the second article, that I really like:
Be an Ambassador for Cycling: Just because there's some road rager out there who wants to mix it up with cyclists doesn't mean that we have to dance to his tune. The most powerful things we can do to effect positive change in the road environment are proactive, not reactive. You have the power to bring a positive influence to your road environment, just as you have the power to bring a negative influence to your road environment.
(Bob Mionske, for those who don't know, is a nationally-known cycling lawyer and advocate for the rights of cyclists. A former U.S. Olympic and pro cyclist, Bob amassed a record of over 100 wins during his racing career, then earned a law degree and set up the first bicycle law practice in the nation. Bob was a longtime columnist for VeloNews, and now writes the Road Rights column for Bicycling Magazine. You can learn more at his web site, BicycleLaw.com.)
My friend also sent along a personal note: "I have encountered more rage this year than in my previous 29 years of cycling."
That set me back a bit. I know my friend is an experienced and careful cyclist. I haven't seen him do much to draw the ire of motorists (OK, he's ridden up along the right side of stopped cars at a traffic light a few times, but I'm trying to break him of that habit.)
Personally, I haven't seen much road rage myself.
I can only think of one incident this year, when a pickup passed me, blaring his horn, after waiting a few seconds for oncoming traffic to clear. He passed safely, at a reasonable distance, but there was no mistaking the message: "Get the f*** off the road!"
I just smiled and waved (while saying some none-to-complementary things under my breath) and then he was gone and that was the end of it.
Most incidents I experience I chalk up more to stupidity or distracted driving than road rage. The oblivious drivers are the ones that concern me the most.
Maybe it's because I've spent about 2/3 of my miles on gravel this year, and even most of my road rides are in rural areas, but most drivers I see are considerate and careful and responsible.
There are always a few jerks/fools/idiots, though, and those are the ones that stand out in our memories…
Have you experienced road rage this year? Do you see road rage getting worse? If so, why?
Post tags: Road Rage