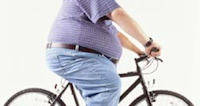 Do you have a more-than-healthy appetite? Can you eat and eat and eat and never get enough? Want to win a mountain bike for your efforts?
The Kansas State Fair is for you!
This year, along with Ferris wheels and Whirligigs, tractor pulls and pig races, goat milking and text messaging contests, fried pie and livestock shows, the annual event is holding a chicken wing-eating contest, in which the grand prize is … a mountain bike.
From the Hutchinson News:
For years, at the Kansas State Fair, there really wasn't a food-eating contest, said Ryan Duncan, co-operator of the Kansas Wine and Beer Garden.

The last contest that allowed folks to stuff their mouths with as much as they could under the time limit was in 2006, when Nathan's Hot Dogs had a hot-dog eating contest.

Duncan said he thought the fair needed a challenge. So with the help of sponsors, he invented the chicken wing-eating contest – a daily competition where contestants try to eat the most wings in under five minutes.

Whoever eats the most in the 10 days of the fair wins a new mountain bike, he said. The record so far was set Saturday, when a man ate 2 pounds of chicken wings.

"We want to make this a yearly thing," Duncan said. "Who doesn't like to watch someone stuff their face?"

Duncan wasn't wrong about that. About 50 people gathered in the wine garden's small courtyard, rooting for five contestants who worked diligently to digest the wings, which were smothered in Hutchinson's own Roy's barbecue sauce. [read more]
No word on what brand and model the mountain bike is, but for all those extra pounds you'll be packing on, it better be a sturdy one!
The 2009 Kansas State Fair takes place in Hutchinson, Kansas, September 11-20.